It's time to enter a wintry fairy tale in Animal Crossing: Pocket Camp, campers! The li'l snowy cookie is now purchasable over at the Fortune Cookie Shop, and through it you'll find an assortment of icy covered furniture and apparel items. It's basically a recolor of Bunnie's li'l red cookie, this time providing players with a cooler color palette that consists of blues, whites, and mint greens.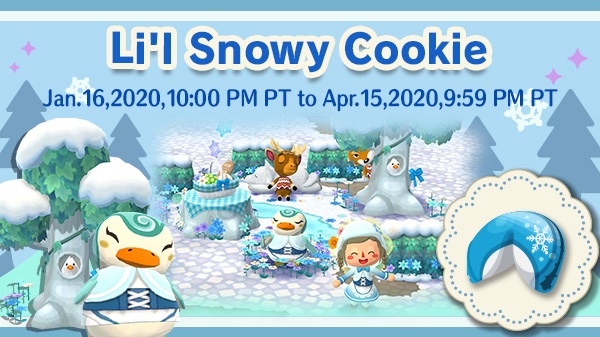 There's no item that provides a scrapbook memory this time, but you'll still find a very pretty array of items that will undoubtedly spruce up your camp, cabin, and/or camper with a lovely icy storybook feel. The list includes the 5-star winter folktale tree, the winter tree-stump table, the snowy forest path, and many more frosty items in-game, perfectly fitting for the cold winter days ahead.
You have until April 16th at 12:59 a.m. to try your luck at getting your desired items from the cookie. Make sure to sign into the game to read all the nitty-gritty details!
Leave a Comment