Following last week's release of Flareon at Build-A-Bear in Australia, we now have word that the Fire-type Eeveelution has made its way here, to North America!
You'll find the fluffy Flareon plush donning extra large ears and an adorable bushy tail — all present to help bring its owners a sense of comfort and warmth at home and on their adventures. Standing 12″ tall, the plush alone is priced at $32 in stores.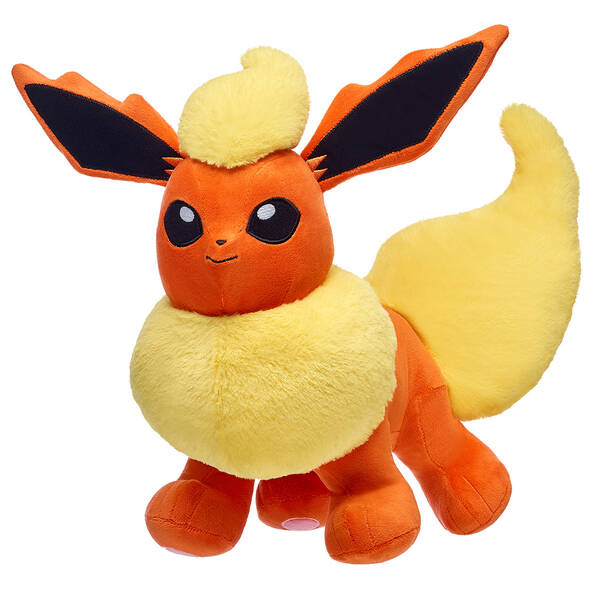 Per usual, the plush is also available in an online exclusive bundle, which is already up for order at the Build-A-Bear site. The following items are included in the bundle:
Flareon
Flareon Poké Ball Sleeper
Flareon Fire Type Cape
5-in-1 Flareon Sound

Interestingly, this is the first time we've seen a Pokémon bundle from BAB that doesn't include an exclusive TCG card. Even so, the rest of the items are all here and accounted for! You can order the Online Exclusive Flareon Bundle for $64.
Just as exciting, the workshop has provided us all with a look at this year's Pokémon collection release schedule. Jolteon will land in the shop this summer, and Vaporeon will be available in late summer!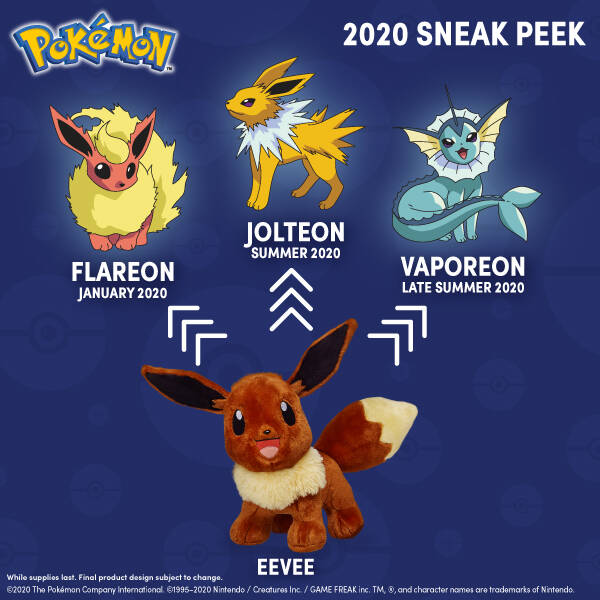 Needless to say, it's nice to see what we can expect to see hit Build-A-Bear over the next few months. Hopefully we'll get even more looks at new Nintendo related releases in the future. Stay tuned, and we'll keep you up to date on the latest plush news from our favorite workshop!
---
Make sure to check out Build-A-Bear's Pokémon collection today, as several plushes are on sale — Eevee, Pichu, Alolan Vulpix, and more!
Leave a Comment