The new 1.4 update for Stardew Valley is now available for PC, Mac, and Linux on Steam and GOG, and is completely free for anyone who already owns the game. It will take some time to the updates to be released onto consoles, but the developers plan on making the new changes accessible on all platforms "soon".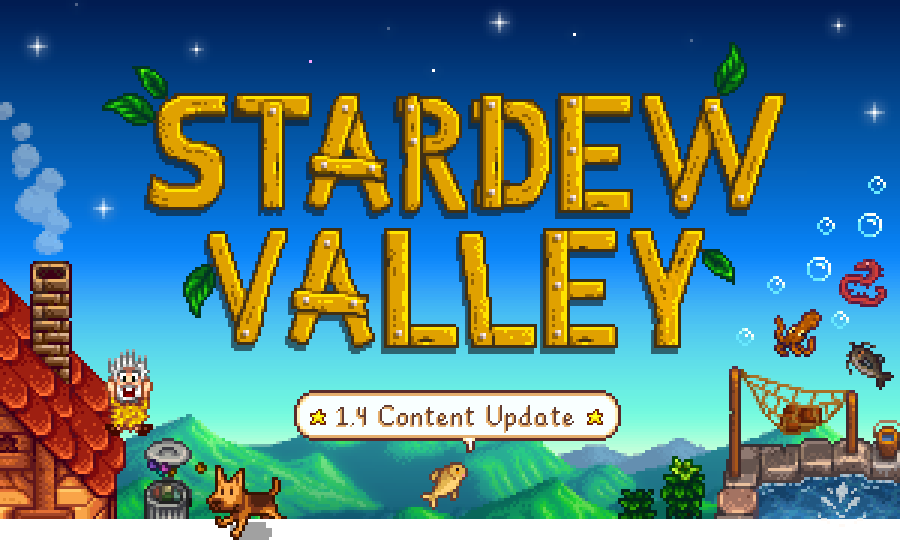 This update adds new content to the game while fixing various bugs, but it also enhances the overall experience of the game tremendously with a variety of new activities and "quality of life" features. Here are just a few new aspects that were added into the game.
There is a new end-game mystery that involves an abandoned building.
New character events were added, including a new 14-heart event for every spouse. This was added to create more depth to the relationships the player creates after becoming married.
Fish ponds were added as a new farming building that allow you to raise fish and harvest them. Most fish will produce roe, which can be put into jars, but they can also produce secondary items.
Four Corners is a new farm map that was added into the game, which allows each farmer to have their own quadrant to live in during multiplayer mode. However, it is also fun for single player or cooperative farms. An interesting feature of this map is that the greenhouse, farm cave, and pet area are located in the center.
There are 24 new hairstyles, 181 new shirts, 35 new hats, 14 new pants, and 2 new boots.
Sheds can be upgraded to double their interior size.
There are 14 new music tracks.
The update also includes a large amount of Quality of Life Improvements , like being able to stack "big" items or seeing the Junimo Note icon pulse while hovering over an item that's required for a bundle. The social tab also now keeps track of villagers' likes and dislikes.
To view the full list of updates, check out the official Stardew Valley changelog. But beware, the list does contain spoilers.

Leave a Comment