Nintendo and Sega have teamed up again in the name of sportsmanship and competition to bring us the latest Olympic crossover: Mario & Sonic at the Olympic Games Tokyo 2020. This marks the debut of the series on Nintendo Switch, letting you take its lineup of sporting event minigames with you no matter where in the world you go.
One of the most exciting features this time around is the all-new set of retro events, based on both of the mascot's pixelated history and Tokyo's past hosting of the Olympics back in 1964. These Tokyo 64 games are even at the center of Mario & Sonic 2020's Story Mode, and thanks to Sega, we've been able to try out every single one of them for ourselves and see what they do for the series.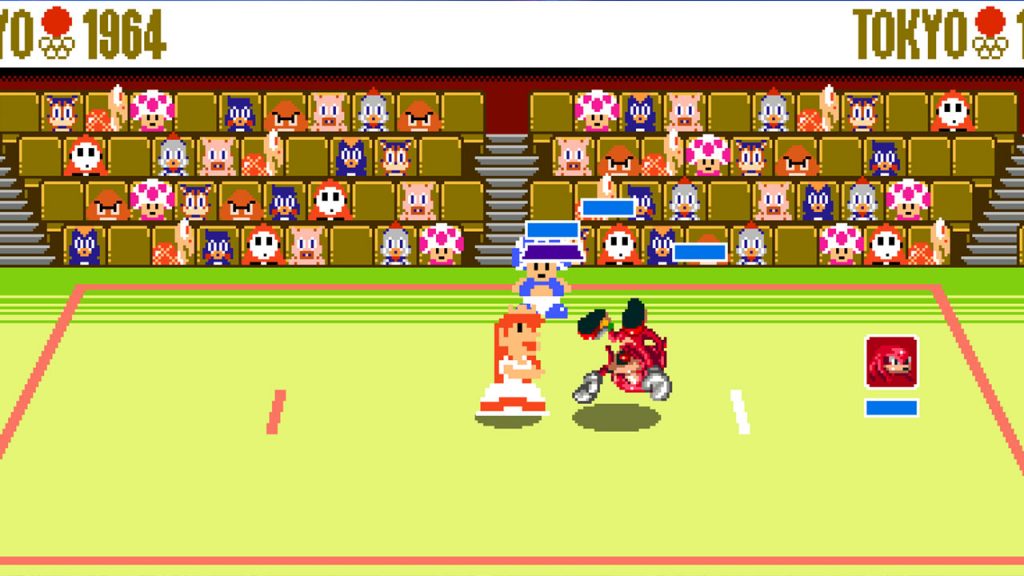 Despite the rewind when it comes to visuals and featured characters, the ten events fit right in with the more modern ones. Only the 100m exists in both styles (hurdles too, but at different lengths), letting the remaining events feel distinct. Even the music gets in on the action, going from pomp to blips once you swap without losing any of the ceremonial feel. There's even an analog TV filter if you really want to take yourself back.
While these events don't have you running through World 1-1 or kayaking in Green Hill Zone, seeing the classic character sprites in the context of the Olympiad is the perfect blend of strange, amusing, celebratory, and nostalgic. There's something great about 16-bit Sonic tapping his foot impatiently on the podium (even if he's gotten the gold) or seeing 8-bit Peach pull off a high dive routine with minimal animations. All of that is multiplied as you experience the Tokyo 64 in the story mode, with Bowser and Eggman especially being a treat.

It's not just a throwback to Mario and Sonic's legacies though, as the game is embracing Tokyo's history via collectible bits of trivia. Searching for these adds some incentive to tour about the city, satiating completionists and those with a hunger for knowledge in equal measure. Having had the chance to see Tokyo for myself in the past, it was a nice primer on the region's connection to the Olympics, both past and near-future.
It's unlikely that any other Mario & Sonic at the Olympics title could've pulled off what Tokyo 2020 is doing with its retro inspiration. The historical circumstances are a gold medal of an opportunity that this Switch entry embraces. It's a fun twist on the familiar, and it helps that these throwbacks can keep pace with the more expected modern ones.
To see how they and the game fare overall, look forward to our full review and to Mario & Sonic at the Olympic Games Tokyo 2020's release on November 5th.
Leave a Comment