Are you a fan of Pokémon? I'm betting there's a good chance you are. If you're a freak for Game Freak's monster-catching franchise and you want to show it off, you're in luck, because PDP just released a new line of fresh Pokémon accessories for Switch and Switch Lite.
First up, PDP is offering a handful of new Pokémon themed cases. The Commuter Case comes in a textured-gray color with a Pikachu pattern on top. At $29.99, it's the most fully-featured case, with room for your Switch or Switch Lite, an additional pair of Joy-Con controllers, one Pro Controller, a power bank, and slots for 14 Switch games. This is a good pick for when you want to travel comfortably, as it comes with everything you might need for a long plane ride.

You can pre-order PDP's Pokémon Pikachu Commuter Case for $29.99 on Amazon.
The Deluxe Travel Case is cheaper at $19.99, but it will only fit the Switch/Switch Lite, 14 games, and smaller accessories. This case comes with a pretty slick Poké Ball design.

You can pre-order PDP's Pokémon Poké Ball Deluxe Travel Case for $19.99 on Amazon.
The last case option is for those who really like to travel light. The Pikachu or Eevee System Travel Case is designed for carrying the system and six games. The designs are cute, featuring some bright anime renditions of Pikachu and Eevee.

Finally, if you're in the market for a new Smash Bros. controller, PDP released Jigglypuff and Pichu versions of the Wired Fight Pad Pro Controllers. The Pichu controller is black with yellow buttons, while Jigglypuff's pad features pink buttons on a white controller. If you want to hear more about the Fight Pad Pro, you can check out our recent review of some of the other colors PDP offers. The controllers and cases are available to pre-order now, and will be cropping up at retailers this fall.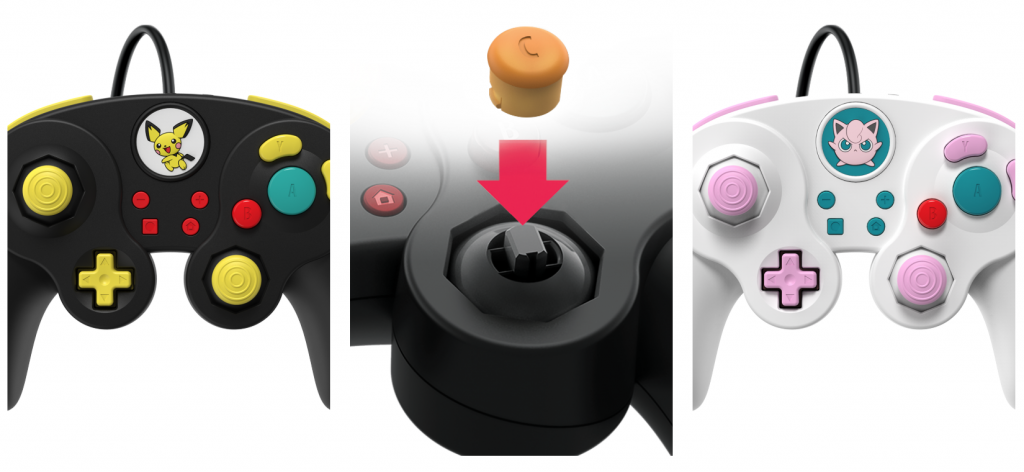 You can pre-order PDP'sJigglypuff Wired Fight Pad Pro Controller on Amazon for $24.99. You can also pre-order PDP's Pichu Wired Fight Pad Pro Controller on Amazon for $24.99.
Check out PDP's blog post that shows off all the company's new products for even more details.
Leave a Comment