If there's one thing that can sell people on a video game, it's nostalgia. We're at a point in time when people will flock to a title if it's a remake of a game they grew up playing. Activision is no stranger to this phenomenon, and as a result we've seen remastered trilogies from Crash Bandicoot and Spyro the Dragon pop up in the last few years. Activision doesn't show any signs of stopping the nostalgia-train, with their latest remaster taking us back to the land of Crash with Crash Team Racing: Nitro-Fueled.
Crash Team Racing: Nitro-Fueled is essentially a celebration of the Crash Team Racing series — using the original Crash Team Racing as a base, Nitro-Fueled also takes characters, karts, and tracks from Crash Nitro Kart and additional karts and character skins from Crash Tag Team Racing and rolls them up into one remastered package. The result is an astoundingly great kart racer with a high skill ceiling.
The original Adventure mode from Crash Team Racing is present and accounted for under the "Classic" moniker, letting you take one character and kart through the whole adventure with zero flexibility, while the new "Nitro-Fueled" option offers three difficulty settings, allowing you to switch between any of the 26 characters or customize your kart between races. Easy mode is a great way for players new to Crash Team Racing to get their feet wet with the mechanics of racing with Crash and his buddies. When setting the difficulty to Normal, things get kicked up a notch — I struggled with several of the races playing through in Normal, with my losses being split pretty evenly between bad luck and my own initial lack of skill. Hard mode is where veterans of the series are going to want to go to test their mettle, and tested they will be. Between the ruthless CPU racers and the onslaught of explosive items in the middle of the pack, Hard mode lives up to its name in the purest sense.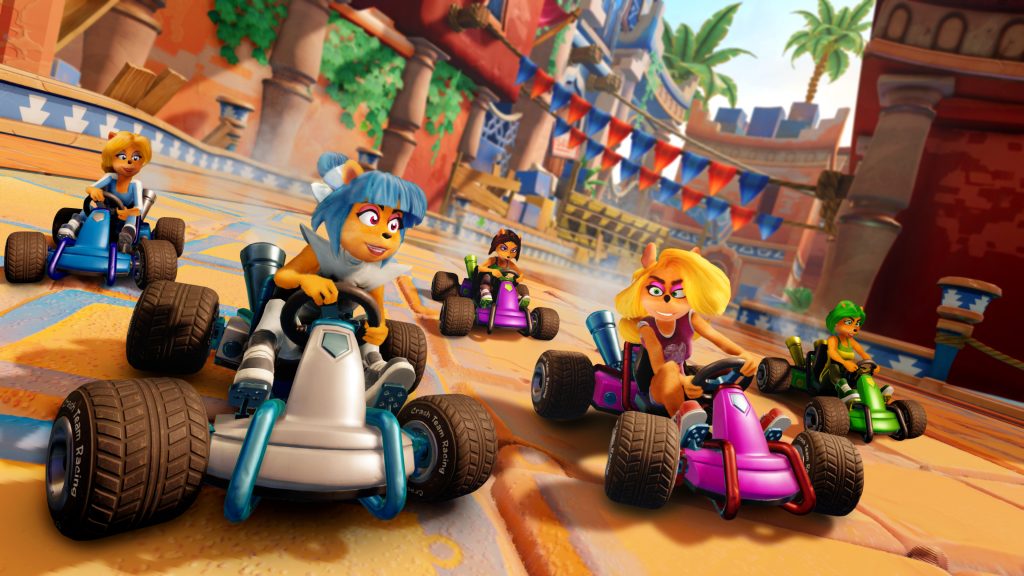 Difficulty options aside, Crash Team Racing: Nitro-Fueled is a little more unforgiving than other kart racers on the market today, since everything from the tracks to the actual physics of the game are designed for frantic high-speed racing. Depending on your skill and the skill of those you're racing against, shortcuts are optional; but if you can't nail down those drift boosts, you're going to have a bad time, whether it's in single-player, local multiplayer, or online multiplayer.
Every bit of Crash Team Racing: Nitro-Fueled has been beautifully recreated from the ground up by Beenox, the developer behind this remaster. Despite some slightly updated physics, the tight controls of the original Crash Team Racing are still there, allowing players to race almost exactly the way they want on all their favorite courses. I say almost for two reasons — because Beenox did remove some unintended shortcuts from the original versions of the courses, some veteran racers are likely to find that some of their favorite ways to shave off seconds in a race are now unable to be performed. Second, like I mentioned earlier, the physics have been slightly updated, which has led to some unintended glitches when it comes to getting stuck on walls, completely missing item boxes, or falling straight off a jump instead of launching into the air. In response to these issues, Activision and Beenox have opened a feedback/bug reporting page where players can report their findings, air grievances, and offer general feedback, good or bad.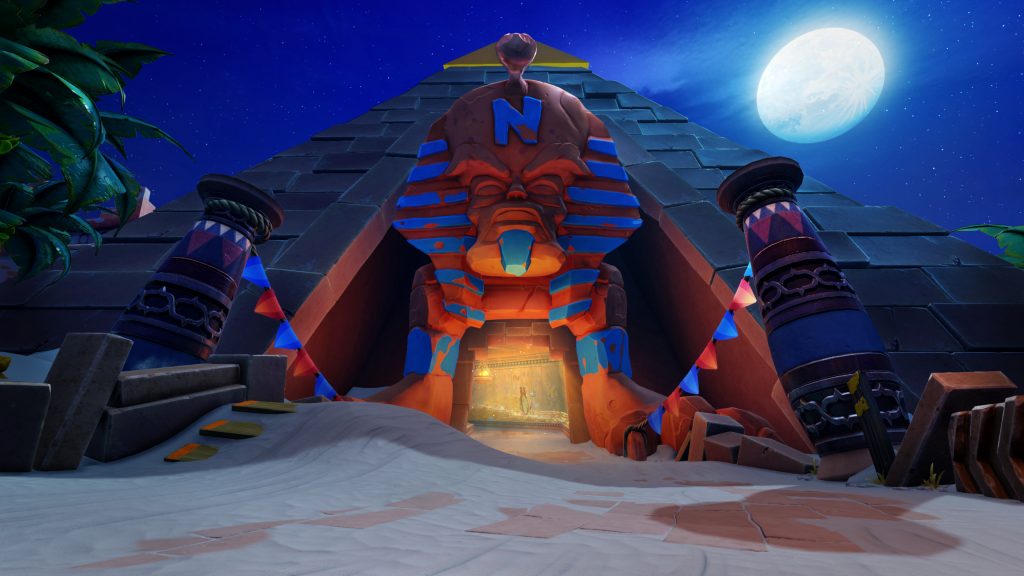 Completing races in Crash Team Racing; Nitro-Fueled will reward you with Wumpa Coins that can be used in the game's shop, the Pit Stop. Here you can purchase new characters, skins, and kart customization options from a selection that rotates daily. You can rest easy knowing that there is no way to spend real money in the Pit Stop, but in return that means you'll really have to grind out those coins to purchase what you want. Unfortunately, this grind can be pretty lengthy, since items start around 1,500 coins and go all the way up to 7,200. You'll be lucky to get more than 40 coins per offline race, and even when racing offline, you won't earn any coins if your Switch isn't connected to the internet.
Online racing can offer far more coins — I've seen the reward range from 100 to 400 coins, but if you take longer than 30 seconds to finish the race after the first racer crosses the finish line, you won't get any coins. On top of that, the coin rewards for online racing have been fluctuating since the game's release, and they seem to have soft-cap of around 2,500 coins per day.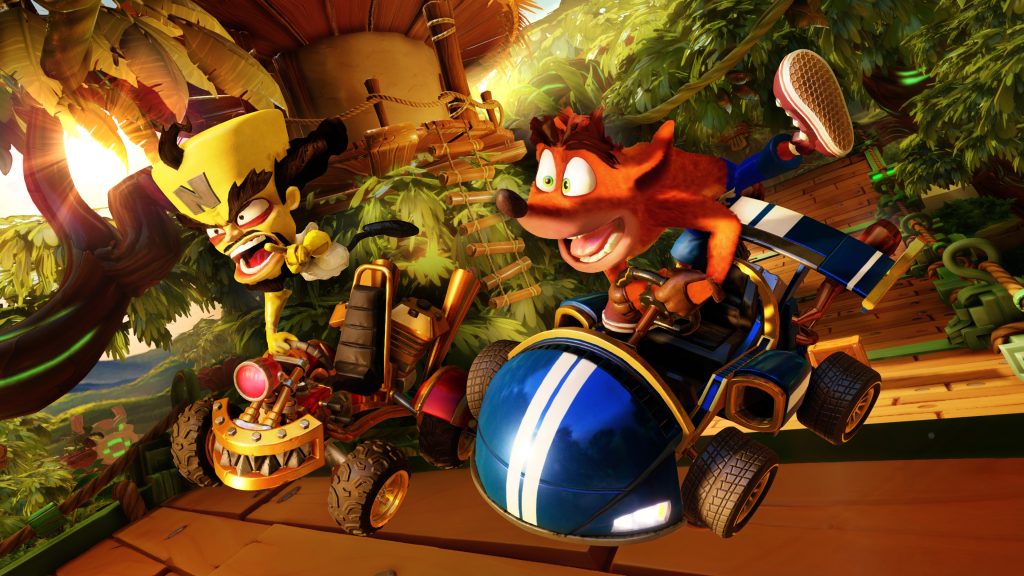 When it comes to Switch-specific issues, the loading times for Crash Team Racing: Nitro-Fueled are definitely on the longer end in both handheld and docked modes. While it's nice to take out my phone and scroll through Twitter or Reddit for a bit while waiting for a race to load, it would be a lot more handy to be able to jump right into the race. The game might not appear quite as nice as the other console versions, but it still looks great on Switch, with the visual upgrades on the remastered tracks still looking far more breathtaking than they did in their original games. It's great to take the game on the go in handheld mode too, but keep in mind you'll miss out on those sweet, sweet Wumpa Coins if your Switch isn't online.
At the end of the day, Crash Team Racing: Nitro-Fueled is an entertaining and unique kart racer. Sure, the Wumpa Coin situation is grindy and a little confusing, and I have issues with the glitches and long loading times. However, the fact that the racing is fast, frantic, and fun just reminds me that Activision and Beenox have done a great thing by bringing back Crash Team Racing, and I plan on continuing to enjoy it for as long as I can.
Leave a Comment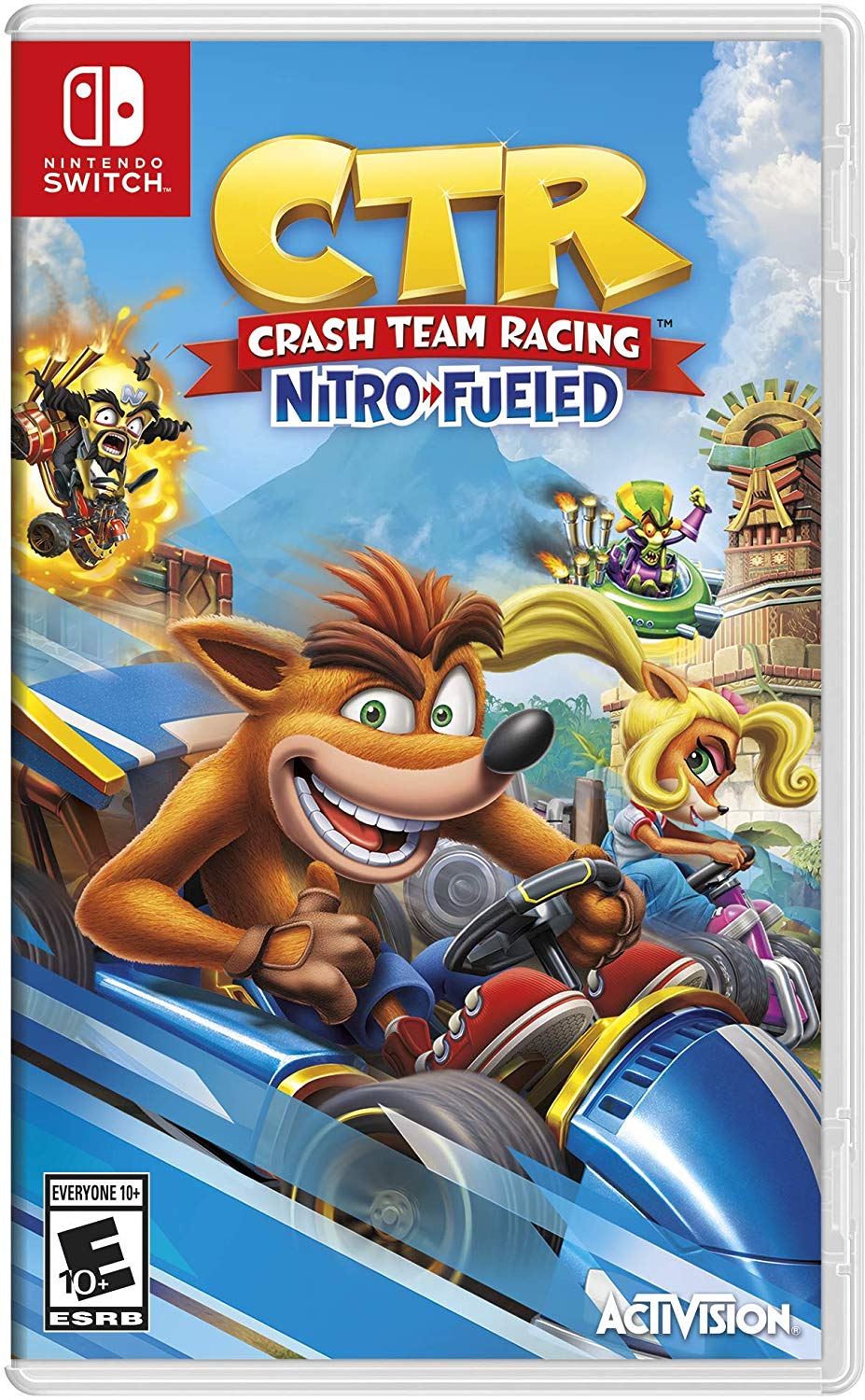 System: Nintendo Switch
Release Date: June 21, 2019
Categories: Racing, Arcade
Publisher:Activision
Developer: Beenox