"Washed ashore a strange land, a castaway will seek the truth…"
E3 was good to the Zelda franchise this year, but something I find myself and a lot of other fans more and more excited about is the upcoming remake of Link's Awakening. Fans tend to go wild for remakes of beloved games in general, but if the Internet is anything to go by it was safe to say that the art style for Link's Awakening originally had put some people off.
Hopefully, the newest trailer for the game has changed those people's minds.
The trailer starts off showing us the iconic scene of Marin finding Link washed up on the coastline. Quickly, we're shown familiar scenes of our protagonist waking up in bed next to Marin, glimpses of the Koholint Island scenery, and some of the combat of Link swiping and throwing bombs at the common enemies in the game (though admittedly, Link's so cute in this it's hard for me to imagine him fighting anything…)
More quick shots of Link picking up and eating apples, catching fish, and even stealing a bow, give us an idea of the gameplay and how it holds up to the original. Ultimately, a lot of it is exactly what you might expect from a classic top-down Zelda game, with combat and puzzles looking familiar but still obviously specific to Link's Awakening.
Several boss fights are shown as well, and while they look exactly like a top-down Zelda boss fight should look, everything feels a little more enhanced by the visuals, graphical style, and smoothness of the gameplay.
One thing revealed to us that I'm not sure anyone was expecting was the addition of what effectively seemed to be a dungeon builder. Entering a small, tomb-like structure brings you to Dampé, who allows you to enter the new mode. Separate rooms, called Chambers, are unlocked during your adventure in the game, and once you do you'll be able to arrange them in any way you want to create a full dungeon.
You'll then be able to explore the dungeons you create… and while there's no word yet on being able to share your creations with the world, I can't imagine there won't be a social aspect to this feature. Interestingly enough, there's also a timer featured in the gameplay for these dungeons in the bottom left corner… it's unclear what this timer is for, but it makes it feel like somewhat of a competitive or rewards-based feature based on your clear times. We do know you'll earn rewards for finishing dungeons – Link's shown to get a Fairy Bottle from Dampé – but could there be different reward tiers based on how quickly you're able to finish?
The trailer finishes by showing us Link ascending the staircase that leads to the Wind Fish's Egg… all while the Ballad of the Wind Fish plays slowly in the background. Quite literally, an iconic way to wrap up the rest of the trailer.
Alongside the regular release of the game, fans can also look out for a special Dreamer Edition, which comes paired with a special hardcover artbook, and a special Link's Awakening amiibo, featuring Link's adorable new look. Potentially, the cutest amiibo to have been announced yet.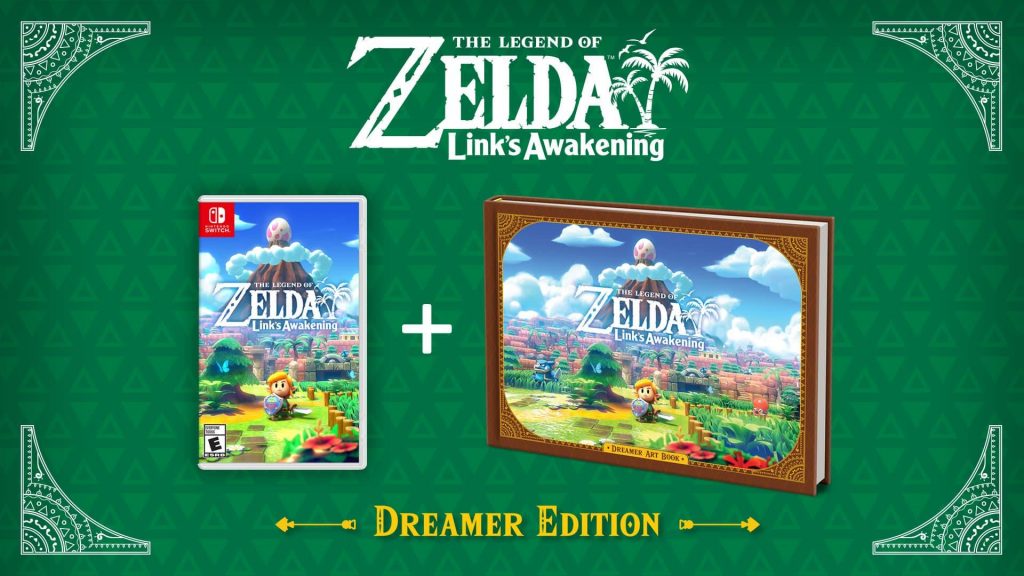 The game, amiibo, and Dreamer Edition all launch on Nintendo Switch on September 20th, 2019!
Leave a Comment