Back in April, the official Final Fantasy Portal App celebrated the launch of Final Fantasy XII: The Zodiac Age on Switch and Xbox One with a poll asking fans to pick their favorite from the game's six Moogle siblings. Considering his major appearances in other Ivalice-set games, it's no surprise Montblanc was the victor.
As the reigning Moogle, the Clan Centurio chief finds himself front and center in a brand-new piece of artwork from original character designer Ryoma Ito! Check it out: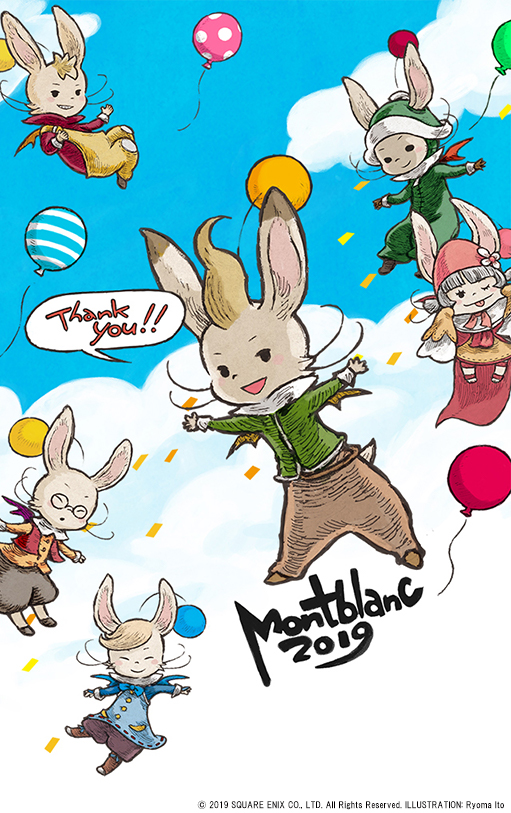 Here are Ryoma Ito's thoughts on the poll, too:
Thank you for all your votes and comments. I was thrilled! I see Montblanc came in first, probably because of all the hard work he does in the Clan Hall of FINAL FANTASY XII THE ZODIAC AGE.

I made him the focus of the illustration, but since the others received a lot of votes too, I've included them to liven the piece and showcase their brother. I hope you like it!

Even now, I have opportunities (like FINAL FANTASY TRADING CARD GAME) to draw the six siblings, so if you ever see them anywhere, please give them your support. Thank you!

(Among all the fantastic comments, some mentioned Dive II Hunt: The Adventures of Sorbet, making me feel both nostalgic and delighted. I'm very grateful!)
If you're curious, Dive II Hunt was a limited-time Flash game on the official Square Enix website and MySpace page back in 2009, for which Ito drew artwork. It's definitely a deep pull!

Leave a Comment