The Pokémon Center has officially announced that the Johto Pokémon Fit plushes are coming to Japan on Saturday, June 8th. Hopefully this means that we'll be receiving news about the same collection — titled Sitting Cuties here in North America — hitting our own PC online store in the near future.
Stay tuned, and we'll keep you posted with more images and details as they're released. In the meantime, you can check out the full list of Johto 'mon below!
---
Original article: First look at Johto plushes from the Pokémon Fit (Sitting Cuties) collection
Written by: Lauren Musni
Coming as no surprise to anyone, the Pokémon Center is continuing its series dedicated to celebrating every single pocket monster in plush form. And with the final wave of Kanto 'mon hitting the PC just two weeks ago, the timing couldn't be more perfect!
Have a look at the Johto series: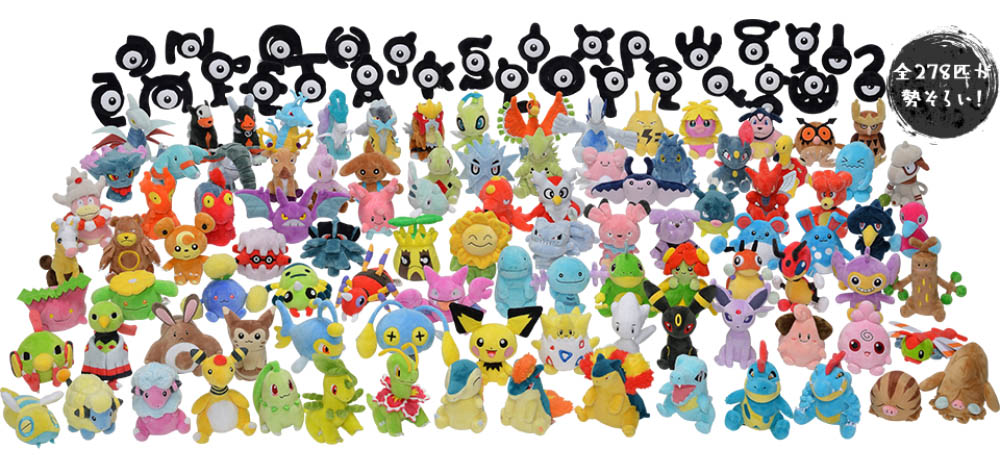 Per usual, this first round of details and promo images is coming from Japan, where the Pokémon Center and retailers refer to the series as Pokémon Fit. (Everyone here in North America, however, calls the adorable plush collection Sitting Cuties.) The folks over at the Sunyshore shop have kindly created two listings that show off the entire list of 'mon — numbers 152 to 251 — expected to land in Japan on June 8th. If you're wondering exactly which Pokémon are included in the Johto series, check out the bottom of this article where we've placed the full list and the links to the two sales listings.
Sunyshore has priced each plush at $20, which may seem a bit steep for these smaller, handheld cuties. (They range anywhere from 4″ to 9″ most of the time.) If you can hold off until they all reach the North American Pokémon Center, you can save $8 a plush with each item only costing you $10.99 instead. Keep in mind that the PC released the Kanto series in several waves over the span of nearly a year, so we can most likely expect the same release method to be used with these new Johto 'mon.
We'll be reporting back with any and all news regarding this incredible collection of Pokémon. Make sure to stay tuned for when all the waves hit the North American Pokémon Center! For the time being, we recommend you pop over to the shop's Kanto Sitting Cuties page — it's impressive, to say the least!
We'd love to hear your thoughts on the new Johto plushes! Let us know on Twitter whether you'll be picking up your favorites… or buying up the whole collection. The very thought is exciting… and completely frightening for our wallets.
---
The Sunyshore online shop is known for picking up Japan exclusive Pokémon merchandise and delivering the products to fans worldwide. You can learn more about the business on the About page.
Sunyshore Johto Series: #152 – #201
Sunyshort Johto Series: #202 – #251

Leave a Comment