As April winds down, it's once again time for Nintendo to bring investors up-to-speed with another financial report, this time covering the entire 2018 Fiscal Year ending March 2019.
In terms of hardware, there wasn't a huge budge from the January report, as the Switch went from 32.27 million units sold to 34.74, but that does mean it's finally surpassed the Nintendo 64's 32.93 million units. The next target to beat? The Super Nintendo's 49.10 million. Some ways to go!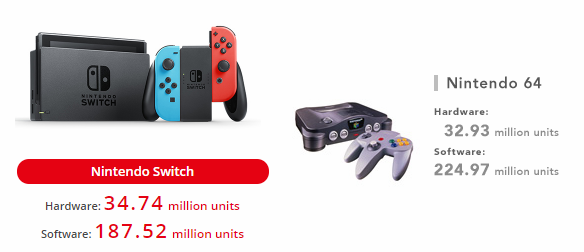 Unfortunately, the Switch's hardware performance ultimately did not meet analysts expectations, at just a 12.7% increase on the same period last year. Thankfully software sales for the year seem to paint a prettier picture, as there 23 recorded million-sellers, and the likes of Mario Kart 8 Deluxe continued to perform well despite age, pushing 7.47 million units in the 12 month period. That racer's still the best selling Switch game, too, now at 16.69 million units sold. In general, software sales were up 95.4% compared to last year.
And of course there's the 3DS, which continues to perform strong but obviously wind-down, with 2.55 million hardware units being sold (down 60.2%) and 13.22 million software units (down 62.9%).
As for mobile, thanks to Dragalia Lost profits are up 17.0%. With Mario Kart Tour seemingly closer than ever and Dr. Mario World still on the cards, the next year should be interesting for this sector in particular.
Similarly looking to the future, Animal Crossing, Link's Awakening, and Pokémon Sword & Shield are still slated for 2019, in case you were getting antsy.
Our next fiscal report should land towards the end of July!

Leave a Comment