YouTuber DanTDM got the chance to go hands-on with Team Sonic Racing. In a recent video, he detailed his experience playing Sega's upcoming kart racer.

We already knew most of the information given in the video, but it was nice to get a refresher on what we can expect when the game launches in just over a month.
Team Sonic Racing functions with four teams of three racers competing for the highest point total in each race. The higher each driver finishes, the more points they get. So, if one team member wins the race and the other two finish in the back of the back, the team won't find that much success. Instead, you need to work together to ensure that everyone finishes in a decently high position.
To do this, there are a variety of abilities you can use to help out your teammates. You can pass items off to your buddies in the back to get them closer to you. Then, the team's front runner has a gold trail that forms behind them, which the other two teammates can use to get a speed boost. DanTDM talked about how you can chain this move — if you constantly have team members slingshotting past each other, your team as a whole will move much faster.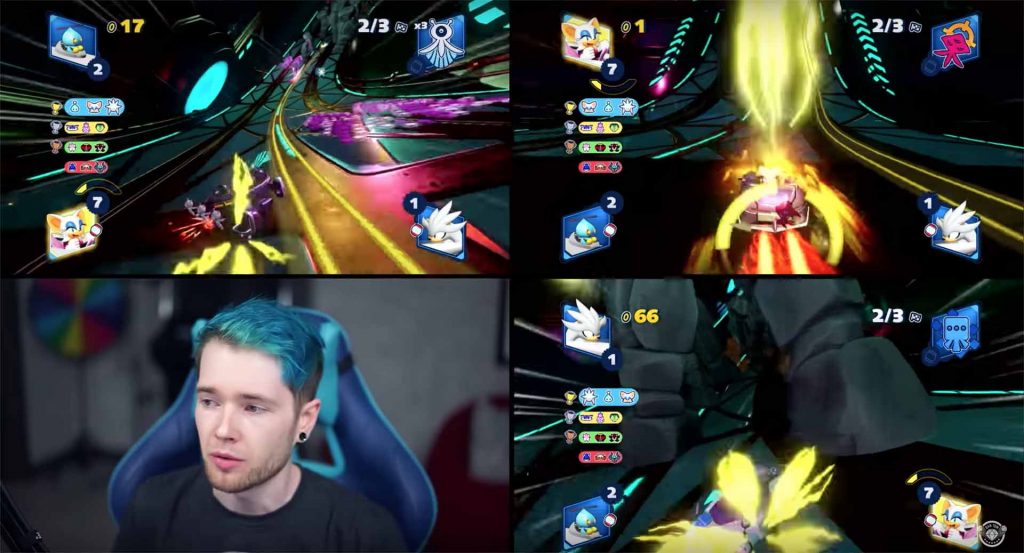 The video also features a discussion on car customization. You get to choose the paint scheme of your car, as well as some add-ons that alter your vehicle's statistics. Apparently, you can apply the paint scheme you design to all three of your team's cars, giving the whole team a unified look!
Lastly, the more rings you collect, the faster your car goes. There's no limit to how many rings you can carry, so you can continuously upgrade your car throughout the race. However, when you get hit by a wisp, you lose all your rings and have to start improving your speed from scratch.
Team Sonic Racing lands on Switch on May 21st. For more on the blue blur's new racer, keep coming back to Nintendo Wire!
Leave a Comment