Happy April! As we enter this month, we can look forward to new My Nintendo rewards. Need a new wallpaper calendar and want to continue the cardboard hype train in celebrating Yoshi's Crafted World? This batch of Platinum Point goodies is crafted perfectly for you.
Taking a page from Kirby's Extra Epic Yarn rewards, Yoshi and Poochy are appearing on more than just some digital wallpapers. Placemats and gift card envelopes return with some Yoshi flair, and this month's paper box is dedicated to transporting cupcakes. You can even dress up said cupcakes with themed wrappers and toppers. That's a total of six rewards all themed to Yoshi's Crafted World, and they won't break your Platinum Point bank either! Each download can be redeemed for 50 Platinum Points.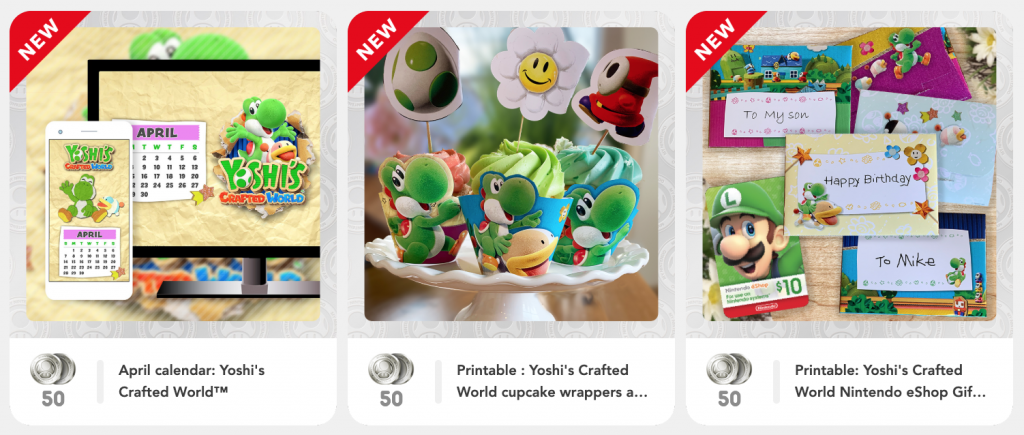 Still in the mood for cute, spring themed rewards? Two Animal Crossing 3DS themes have returned to the site. Ramping up for New Leaf's take on Easter, the Bunny Day theme can be acquired for 100 Platinum Points. The second theme is from Happy Home Designer, showing off the watercolor-like key art promoting the game. That particular theme will set you back 20 Gold Points — well worth it for any Animal Crossing fan!
Leave a Comment