Not many video game characters can say they've got their own day, but if anyone deserves it it's Mario. The key to this is one of two things: that Nintendo's plumbing powerhouse has been at it for decades and deserves that recognition, respect, and admiration; or he has a name that can be conveniently abbreviated as "Mar 10"th. It's hard to say, really.
Reasons aside, for this year's Mar10 Day multiple retailers will be offering Mario themed Nintendo Switch bundles. Rather than lock you to any one game, fans can get a Switch system and select from the following games for $329.98.
Super Mario Odyssey

Super Mario Party

Mario Kart 8 Deluxe

Mario Tennis Aces

New Super Mario U Deluxe
Multiple retailers are participating, with the bundle deal being available at Best Buy, Target, Walmart, and Amazon from March 10th 'til March 16th. All of those locations will offer your chosen game as a digital copy, while GameStop makes no distinction on the official deal page — but the deal will only be available on Mar10 Day itself, March 10th.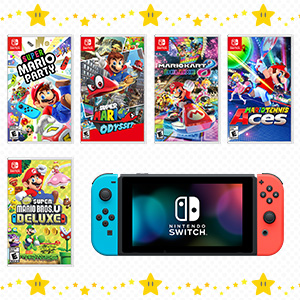 If you've already got a Switch but are missing any of these Mario headlined titles, each of the retailers (except GameStop) is offering the standalone digital copies of those same games for $39.99 from March 10th to the 16th as well. All of them are great in their own ways, with Odyssey being a must-have for any Nintendo Switch owner.
Adding to the Mar10 fun, Nintendo New York will be hosting a public event at their store from 12 p.m. to 4 p.m. ET on March 10th in partnership with Frito Lay. Fans and guests can join in for all kind of fun activities, game demos, character meet and greets, and giveaways. If you're in New York and want to get on some free chips with Mario, your time is nearly here.
Leave a Comment