Bloodstained: Curse of the Moon still ranks as one of the best dark horse releases of 2018. It came to be as a stretch goal for the Bloodstained: Ritual of the Night Kickstarter, bringing Classic-vania action to Switch and other platforms. A year has passed since its release, and it's still all too tempting to step back in and play through the game with its four characters all over again.
We are thrilled to announce that we are publishing physical versions of @IntiCreatesEN's Bloodstained: Curse of the Moon for Nintendo Switch, PlayStation 4, and Vita next Friday, March 15 at 10am EST. 🌕 pic.twitter.com/xSaaCLUH3G

— Limited Run Games (@LimitedRunGames) March 7, 2019

If you missed out or have been holding out for something a little more shelf-friendly, Limited Run Games announced today that they'll be publishing a physical release of Inti Creates' retro throwback. Pre-orders will open next Friday, March 15th. And if you already have the game but want to toss a little more love its way…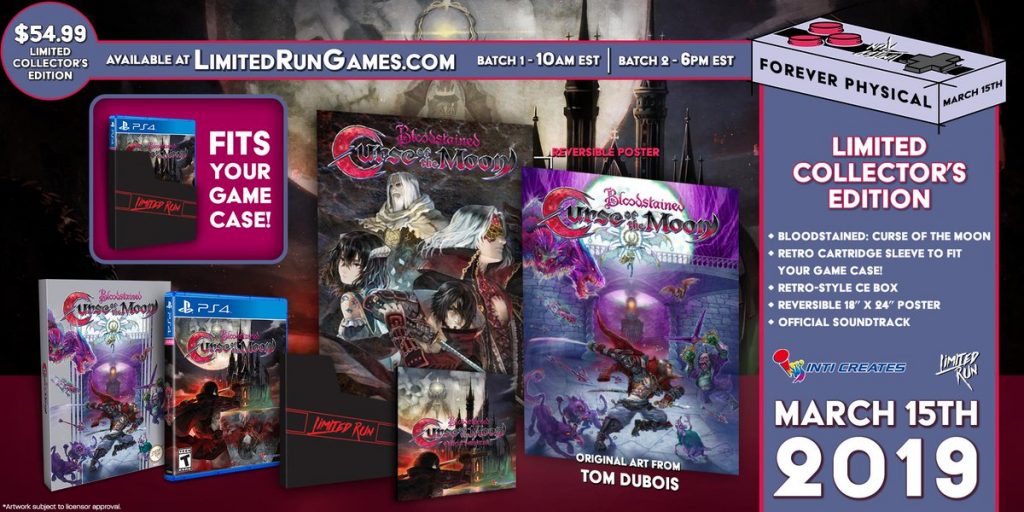 The Collector's Edition was also revealed, available the same day for $54.99. This'll include a physical copy of the game along with a CE box inspired by Castlevania III's own NES cover. The homage runs far enough that they even got the same artist to give Bloodstained the Dracula's Curse treatment. You'll also score a Limited Run Games retro-style "cartridge" sleeve for the box, a reversible poster, and a soundtrack CD.
Be ready for your version of choice, because just like the name says, once these limited runs are gone, they're gone. And even if that happens you should still check out the digital version for one of the finest cursed nights money can buy.
Leave a Comment