Last year's Nintendo Switch port of Captain Toad: Treasure Tracker will be receiving a set of paid DLC courses, as well as co-op play in a free update.
The news was announced during today's Nintendo Direct presentation, during which Captain Toad was given some brief attention during the video's "Nintendo Switch Headlines" section.
The free update, which allows two-player co-op in any of the game's courses, will be made available to download later today.
Meanwhile, the game's paid downloadable content will add 18 new challenges to the game that will have players traveling to five new courses — "from sunken ships to a kingdom of sweets" — and achieving new objectives in existing courses.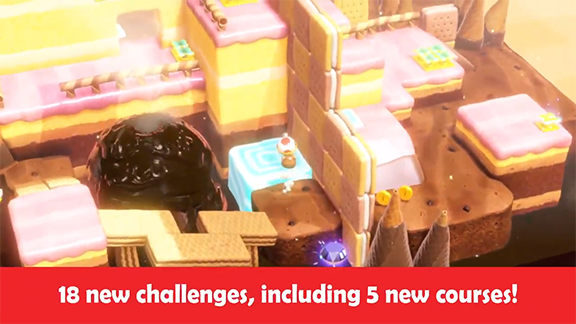 According to the announcement clip, Toad and Toadette must obtain a "shiny crown" from each course, which can be done in both singleplayer and co-op.
Captain Toad: Treasure Tracker — Special Episode will launch on March 14th, while the DLC can be purchased starting today.
Players who pre-order the DLC will be able to play the first of the paid DLC courses immediately, with the rest following on March 14th.
Leave a Comment