Over a year since its release and I'm still tapping my toes to "Jump Up, Super Star!" There's no doubt in my mind that Super Mario Odyssey is one of the Switch's best games by a mile. Looks like Jakks Pacific is catching onto that notion too, as an upcoming wave of their World of Nintendo figures is pulling from the many corners of the game's globe.
You'll be able to get plenty of Mario with the new lines, which include a figure dedicated to the plumber with a good amount of detail, plus Cappy as his cranium-perched co-star. If you want to change up the wardrobe, you can instead grab Mario with a captain's hat, perfect for piloting your airship to the moon and back, or in a safari outfit made for adventuring (or Picross).
If you want a change that goes deeper than skin, you can capture yourself a Hammer Bro and have Mario in that getup instead.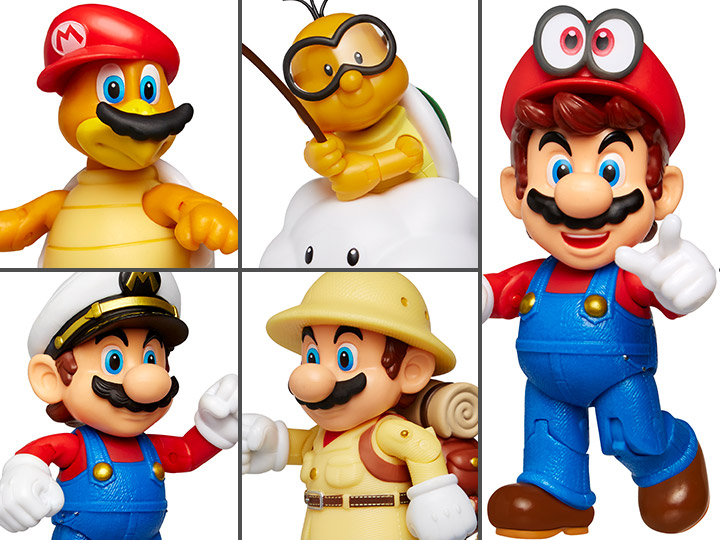 Last up is Lakitu, though nothing about his look screams "Odyssey" — to the point he feels like he's just along for the ride. He wouldn't look out of place in the sooner coming Wave 14, featuring Mario and (Fire) Luigi, along with some Mushroom Kingdom baddies in their more common styles. That includes the ever popular Dry Bones, Piranha Plant fresh off his Smash appearance, and a Fire Bro who… showed up for work today!
Each of these figures go for $11.99 a piece and will come with various accessories to pull the collections together. Be on the lookout for Wave 15's mostly Odyssey stylings due in stores this March.
Leave a Comment