Amazon's Treasure Truck promises to bring deals, hard to find items at non-scalper prices, freebies, fun events, and more on any given day. They first caught our attention when select cities suddenly had access to the NES Classic last year, back when the mini-console was limited and in high demand. Since then, they've participated in the SNES Classic's launch, a slew of days dedicated to Nintendo Switch and games for the system. With Super Smash Bros. Ultimate available now, Amazon has partnered up with Nintendo once again.
Lauching today, it's Super Smash Bros. Ultimate / with more characters than ever, it's the biggest Smash brawl yet. / Whether you're a casual gamer or a serious Super Smash Bros. fanatic / Grab your Nintendo Switch, go on, get at it! pic.twitter.com/M56aRBQalY

— Treasure Truck (@treasuretruck) December 7, 2018
Get yours in select cities for $59.88, plus a bonus gift of Super Mario Cereal, at https://t.co/IctiLxp7dc.

— Treasure Truck (@treasuretruck) December 7, 2018

Reading the details of today's giveaway also presented a fun tidbit regarding an item the Nintendo community is bound to get excited about — a free Nintendo Switch.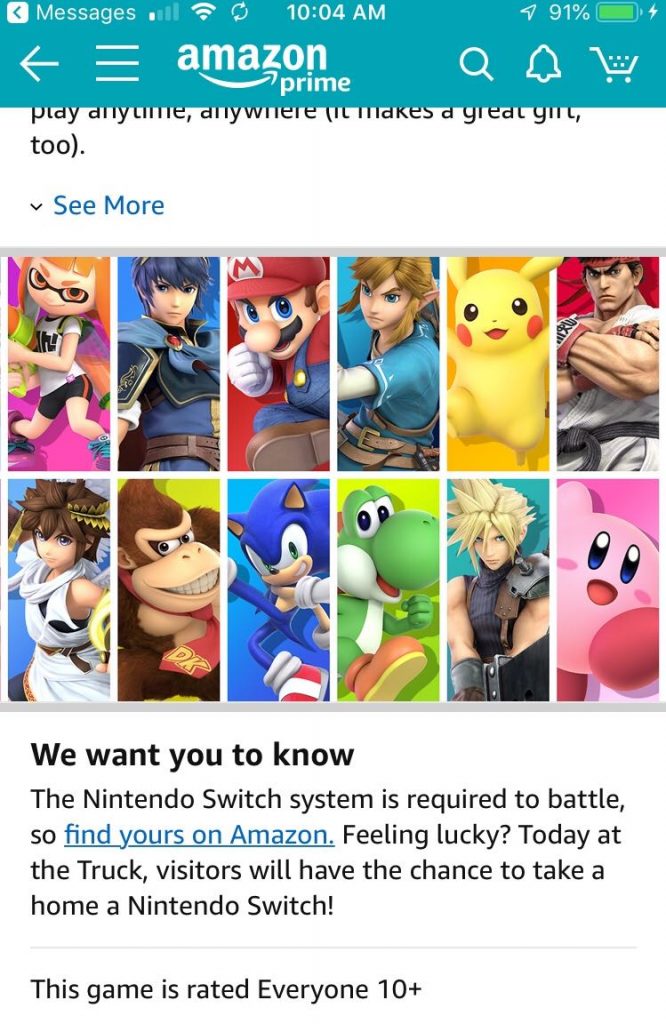 Hi TT & @AmazonHelp! 🙂 I spied that the event description said "Feeling lucky? Today at the Truck, visitors will have the chance to take home a Nintendo Switch!" Could you clarify this, please? Curious if that means a Switch will be given away or offered for sale. Thank you!

— Jennifer N. Burch (@artisticdoodle) December 7, 2018
Hi Jennifer! We will be giving away a Nintendo Switch at the Truck!

— Treasure Truck (@treasuretruck) December 7, 2018

Once this Switch giveaway info was confirmed, more people joined the conversation and @treasuretruck stepped in to clarify:
How does one get this switch. I am close to the truck now, also can we buy the cereal separate or with game purchase only?

— jladbury (@Jladbury) December 7, 2018
Hi there! The switch will be given away via at-truck raffle. Good luck!

The cereal is a free sample for those that purchase the game today (while supplies last.)

— Treasure Truck (@treasuretruck) December 7, 2018

Multiple cities are participating in today's drops, and some happy fans have already posted their hauls. Not only does the game come with the Super Mario Cereal, but also the SSBU pin handed out at various events and via promotions this year.
Thanks @Amazon Treasure Truck 🙌🙌🙌 pic.twitter.com/b3SGHbrynl

— John Richard (@JohnnyS7ORM) December 7, 2018

To see if your city is part of Amazon's Treasure Truck program, you can check the Amazon Treasure Truck page or text "TRUCK" to 24193. (Text "STOP" to the same number to cancel further updates.)*
*Note: By texting "TRUCK" you agree to receive automated text messages (including marketing messages) at your mobile number provided from or on behalf of Amazon about Treasure Truck. You may cancel any time by texting "STOP" to 24193. Consent is not a condition to purchase. Message and data rates may apply.By texting "TRUCK" you agree to Amazon's Conditions of Use.
Leave a Comment