With just over a month to go 'til Christmas, it truly is the season, and SNK is celebrating it in style. A special Christmas-themed version of its desktop NeoGeo Mini system is set to be released, and its not just a visual update – there are a few new games, too.
While the promotional images for the device show it with the Christmas decorations, it's worth noting that these are optional, so you can have a stylish red cabinet if you so choose.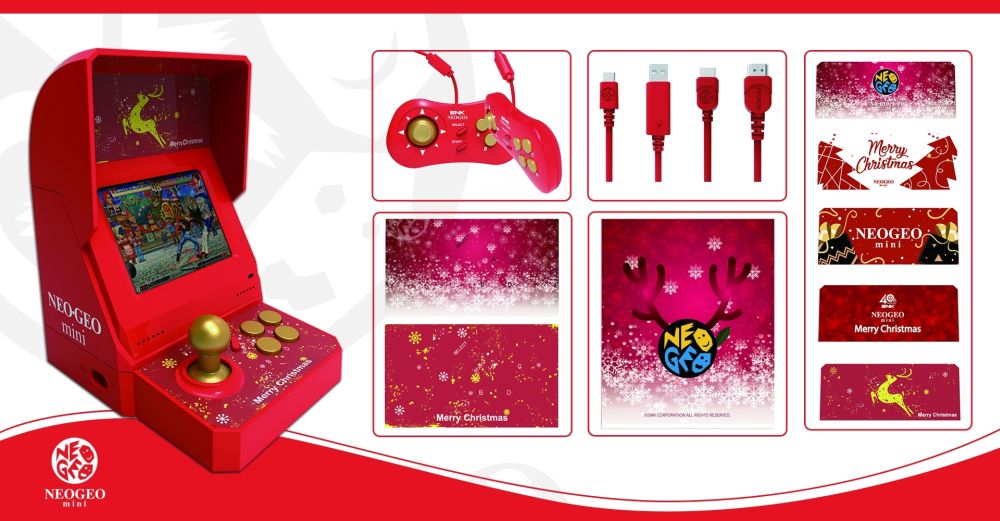 Without further ado, here's the list of included games, via Siliconera, with new entries bolded. There are 48 in total – eight more than the original NeoGeo Mini.

Aggressors of Dark Kombat
Blue's Journey
Burning Fight
Cyber-Lip
King of Monsters
King of Monsters 2
Magician Lord
Metal Slug
Metal Slug 2
Metal Slug X
Metal Slug 3
Metal Slug 4
Metal Slug 5
Ninja Combat
Ninja Commando
Ninja Master's
Robo Army
Sengoku 3
Shock Troopers
Shock Troopers 2nd Squad
The Super Spy
Top Hunter Roddy & Cathy
Alpha Mission II
Blazing Star
Twinkle Star Sprites
League Bowling
Soccer Brawl
Super Sidekicks
Top Player's Golf
Art of Fighting
Fatal Fury
Fatal Fury 2
Fatal Fury 3
Real Bout Fatal Fury 2
Real Bout Fatal Fury Special
Garou: Mark of the Wolves
Savage Rein
Kizuna Encounter
Samurai Shodown II
Samurai Shodown IV
Samurai Shodown V Special
The King of Fighters '97
The King of Fighters '98
The King of Fighters '99
The King of Fighters 2001
The King of Fighters 2002
The Last Blade 2
World Heroes Perfect
To make room for the new games, several titles have been cut, but it's still a solid selection.
There's no confirmed release date for the Christmas version, but given the proximity of the holiday it shouldn't be too long a wait!

Leave a Comment