The series of Sanrio themed Splatfests in Splatoon 2 warmed our hearts earlier this year. Granted, you needed a Japanese copy of the game to play the regional turf wars, but getting a look at the Splatoon and Hello Kitty character mashups and their outfits was fun for everyone. Sanrio later asked fans to vote for future collaborations with popular franchises in a poll, giving Splatoon one of the slots in the ballot, and to no one's surprise the inkerific title won the top spot.
While some merchandise was released earlier in the year, Sanrio is now opening the floodgates by showing off a plethora of goods for a second release. This time Badtz-maru, Keroppi, Tuxedosam, and Pochacco are joining in. You'll find everything from t-shirts, bags, stationery accessories, key chains, cushions, and more in this smorgasbord of cutesy items.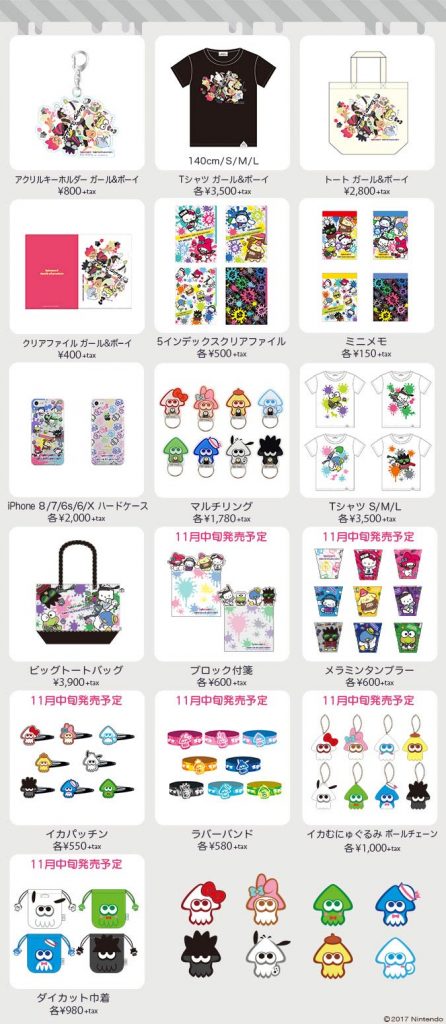 In addition to that, multiple events will be held throughout Japan. As of now, retailers Kiddy Land and Village Vanguard will host dedicated event and merchandise days. Sanrio Puroland, an indoor theme park, will also be celebrating with their own events — showing off illustrations, hosting quizzes, and having photo opportunities with Inkling Girl and Inkling Squid.

Sadly, this merchandise looks to be exclusively for Japan, and it will be for sale starting on November 11th. Importing any of these fresh items may have to be done via a proxy seller — or cross your squid kid fingers that Sanrio will bring some of the products to the rest of the world in the future.
Leave a Comment