Welcome back to the PAX West Fifty-Game Frenzy, where I run down a grand total of 50 Switch games I played at PAX and you can decide which ones pique your interest! Last time we ran down the indie games I checked out at the MIX showcase. This time, we'll be looking at a handful of games offered by small publisher Another Indie Company, as well as some unique side-scrolling strategy offering. Avast!
Sinner: Sacrifice for Redemption
Developer: Darkstar | Release Date: 2018 | Price: TBD | Sinner Website
Souls-like boss rush where you "level down" before each fight, increasing difficulty.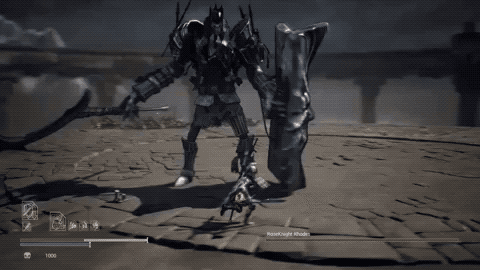 The Switch currently has a dearth of "Souls-like" games, so this one sticks out. Sinner is an entry in the burgeoning genre focused on boss fights, featuring the brutal difficulty known and loved by masochistic fans and hack games journalists everywhere. Adding a wrinkle to the usual formula is a "level down" mechanic — before each of the game's bosses, you must sacrifice your stats, thereby increasing the difficulty mechanically as well as by design.
I'm unacquainted with Dark Souls, so I was unable to overcome the demo boss, but I could feel myself learning to grapple with the game flow as time went on. It also ran quite well on Switch handheld (the booth demoer was extremely proud of this, so I feel obliged to mention it) and sported a suitably dim art style. If one Dark Souls game on the platform will be too little for you, then consider this one as well.
Nairi: Tower of Shirin
Developer: HomeBearStudio | Release Date: TBD | Price: TBD | Nairi Website
Adorable puzzle point-and-click following a girl's quest to unravel a mysterious tower.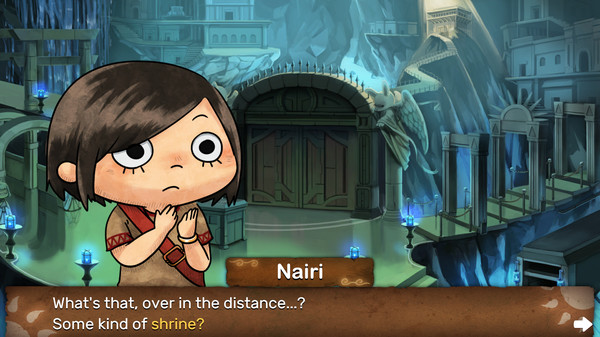 On the opposite end of the intensity spectrum is a little adventure that I can't help but doe upon. Developed by a Japanese-Dutch couple, Nairi: Tower of Shirin is reminiscent of a children's picture book, following a vagrant upper-class girl embarking on a mystical journey in a fantasy world filled with cat people, ancient ruins, and mystery.
While it's a fairly simple point-and-clicker, Nairi's adorable art and simple — mixed with some genuine puzzles that don't pull their punches — make this a cute little game to play with children. If you have kids or younger siblings, this is a great pickup.
Legrand Legacy
Developer: SEMISOFT | Release Date: Early 2019 | Price: TBD | Legrand Website
Throwback JRPG featuring both turn-based and tactical combat.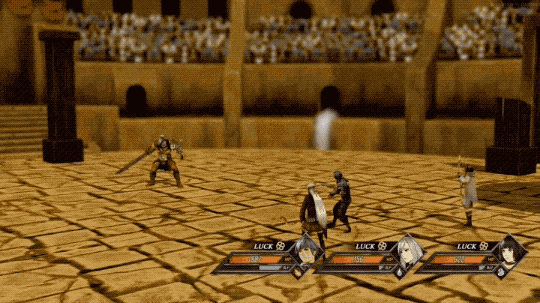 A lot of JRPG throwbacks lean towards the SNES era — look at something like Octopath Traveler or the bajillion indie games with pixel art for examples. Legrand Legacy instead shapes itself more off of another golden age for the genre, featuring the fixed camera angles, backgrounds, and feel of a PS1 game. Starting off as a slave bought to become a bodyguard, I could already tell that things would spiral into a grand quest to save the world.
A game with a slower start like this doesn't offer the richest demo, but I was struck by just how much Legrand Legacy got the feel of the era down. While the graphics are of a more modern caliber, the overall feel — combined with Mario RPG styled button prompts — make this a callback worth paying mind to.
Kingdom: Two Crowns
Developer: Noio; Licorice | Release Date: 2018 | Price: TBD | Kingdom Website
Minimalist micro-strategy game where you build a kingdom up from nothing.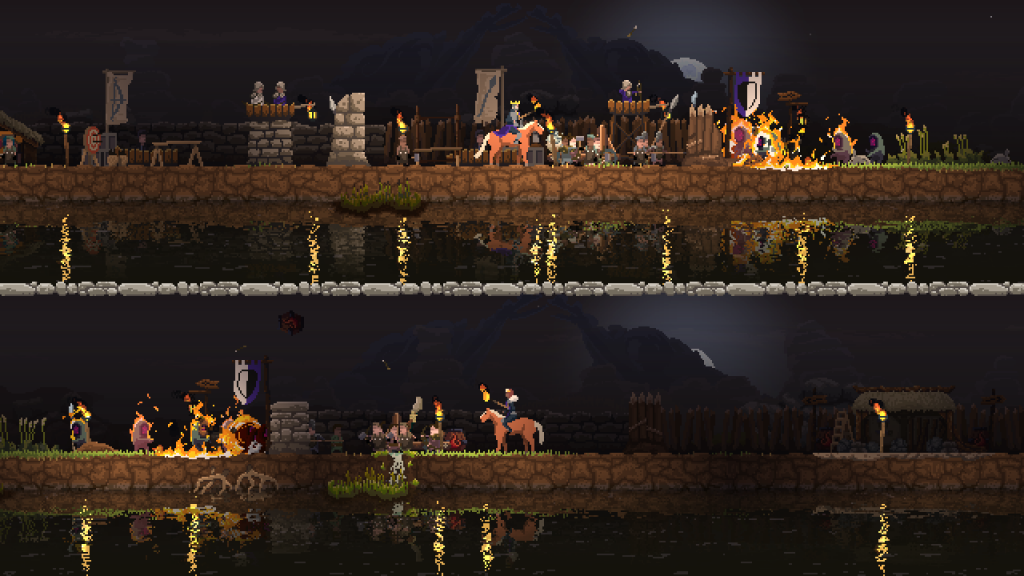 Brevity is the soul of wit, according to some English guy. He must've been the one to develop this game, because Kingdom: Two Crowns doesn't putz around with long tutorials or explanations — it sets you and a buddy off as future monarchs who will build a kingdom from scratch, using gold to purchase soldiers, build up a home, and unlock new places.
Kingdom: Two Crowns doesn't hold your hand, instead tasking you with figuring out its systems and mechanics, which is where much of the charm comes from. While it's not a frenetic or intense game by any stretch, the nice pixel art and effects provide a beautiful backdrop to explore. If you're into the laidback or experimental, then look no further.
Swords and Soldiers II: Shawarmageddon
Developer: Ronimo Games | Release Date: 2018 | Price: TBD | S&SII Website
Side-scrolling real-time strategy game featuring historical forces duking it out.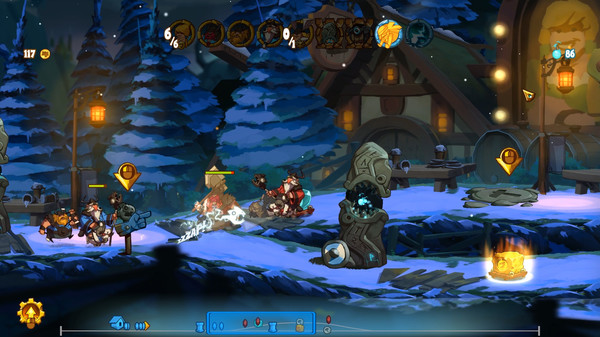 RTS games are usually confined to PC, and follow a Warcraft/Starcraft styled perspective. Swords and Soldiers II defies both of these truisms, offering a 2D version of the genre that works beautifully with the genre. Taking command of one of three historical armies, you'll do the usual resource gathering, tech developing, and unit guiding to lead your forces to victory.
As an entry in a genre I have only light experience with, I found Swords and Soldiers to be surprisingly intuitive, as I won a round in a matter of minutes after picking up the intuitive nature. While RTS is known to have high difficulty curves, this one looks to offer a more casual-friendly way to whet your teeth. And you can pick up the game's first version and the original right now… on Wii U!

That's all for today! Join us next time for the finale of the Fifty-Game Frenzy! Hope to see you there!
Leave a Comment