Even when we know something's coming in a Direct, Nintendo knows how to make it exciting and suit the series at the same time. For Splatoon 2 that meant a flashy, almost anime opening-esque video (complete with new music) for Version.4.0 set on a brand new map. That stage may not be here, but the update has dropped, and thanks to the Squid Research Lab we know what's coming.

While there's some new gear and what looks like some extra unique new weapons, the Lab focuses in instead on those sleek monotone weapons. The Kensa Collection are some high-end models of existing gear but with new specs and just dripping with style. Enter the world of high fashion — the first batch of these is now available.
The biggest change regards Splatfests. Now it will be possible to group up with just one or two friends and still play together, removing the need to be a full quartet. Replacing Solo and Team, the new options are now Normal and Pro. Splatfest victory will come down to popularity and victories in both of these divisions. Scoring and matchmaking are now a little different, but the focus is still about Turf War and getting those wins to support your team.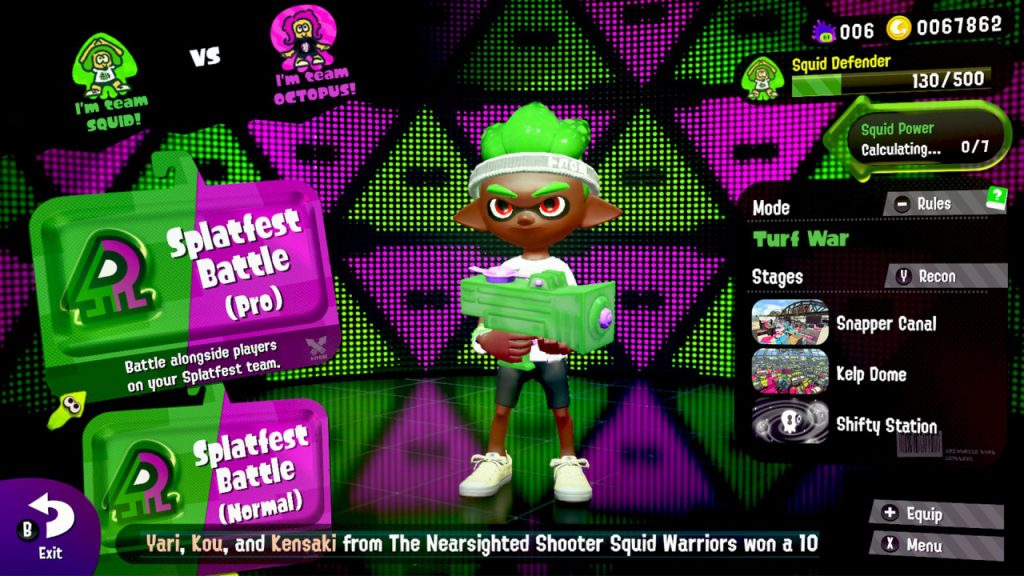 For those multiplayer moments Normal's the place to be, but if you really want to make your mark on a given Fest you'll want to play in Pro. This is where you go if you want your own merit to stand out and climb the charts to make it into the Splatfest Top 100. There are a few other additions to both modes, like randomly occurring score multipliers that can really make your win count, and the fact teams that do well via these multipliers can show up in notifications in-game and even on big screens in Inkopolis Square. Talk about star power.
A handy timiline is available now too, detailing the next batch of new bits. Early October should put the game into Version 4.1, bringing the next batch of Kensa Collection weapons, new sub and special weapons, and that spiffy stage seen in the trailer. Sadly, it sounds like this'll be the final map coming to Splatoon 2, while weapons will be added all the way into December before support is ended. Splatfests though will continue as far as July 2019.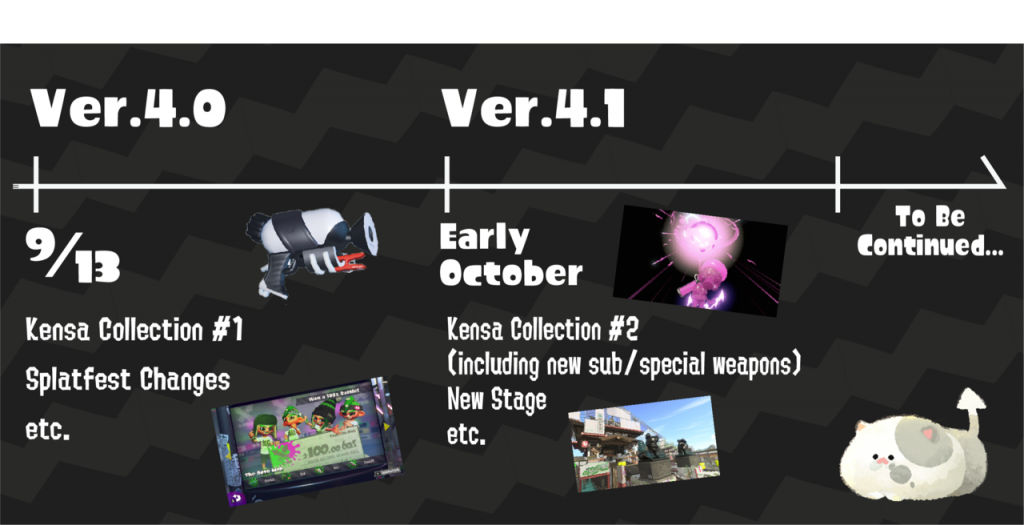 Splatoon 2 just keeps on growing and changing, proving that it's still the multiplayer title on Switch to play. Who knew these squid kids had such long legs to stand on? But hey, I'm still happy to see all these updates rolling out!
Leave a Comment