Welcome to Speedrun Sunday: that sadistic time of the week when we dare to challenge both your D-pad's durability and sanity's stamina with the ultimate test in video game bragging rights.
Hot off the rocket powered kicks of our Mega Man VII challenge comes yet another ruthless run that's sure to keep you sweating through your hair nets. That's right, fans of couscous and verbal abuse: We're stocking up our food trucks for a culinary quest through Onion country in Overcooked 2.
THE CHALLENGE
Which dynamic duo of chefs can get the highest score serving up a storm in Stage 1-6?
Our claim to fame is 1164, which shouldn't be too hard to top for the most seasoned of sous chefs among you. The kitchen connoisseurs with the highest score by 12:00 a.m. PT will each win a $10 eShop card (North America), along with the illustrious title Knights of the Unbread.
THE RULES
This is a two player competition offering two $10 eShop cards. Pick your fellow fry cook wisely!
Slap on the aprons of whichever chefs you like. No restrictions.
All submissions must be made using the Switch's 30 second video capture feature ending with the stage results screen (as shown below). No photos or snapshots will be admissible.
Only one player needs to submit the team's video to enter.
Make sure the in-game alias of the team member submitting the video either matches or closely resembles your Twitter handle.
In the instance of a tie, we'll settle things in Smash live later during the week using various level 50 amiibo representing the winners.
Feel free to improve upon and submit new scores as many times as you like.
Switch version only.
Follow @NinWire and @tater_n_tots on Twitter and retweet this post to qualify for today's cash prize. After that, simply share your video in the Twitter comments and we'll personally send both your winnings and a social media shoutout within the week.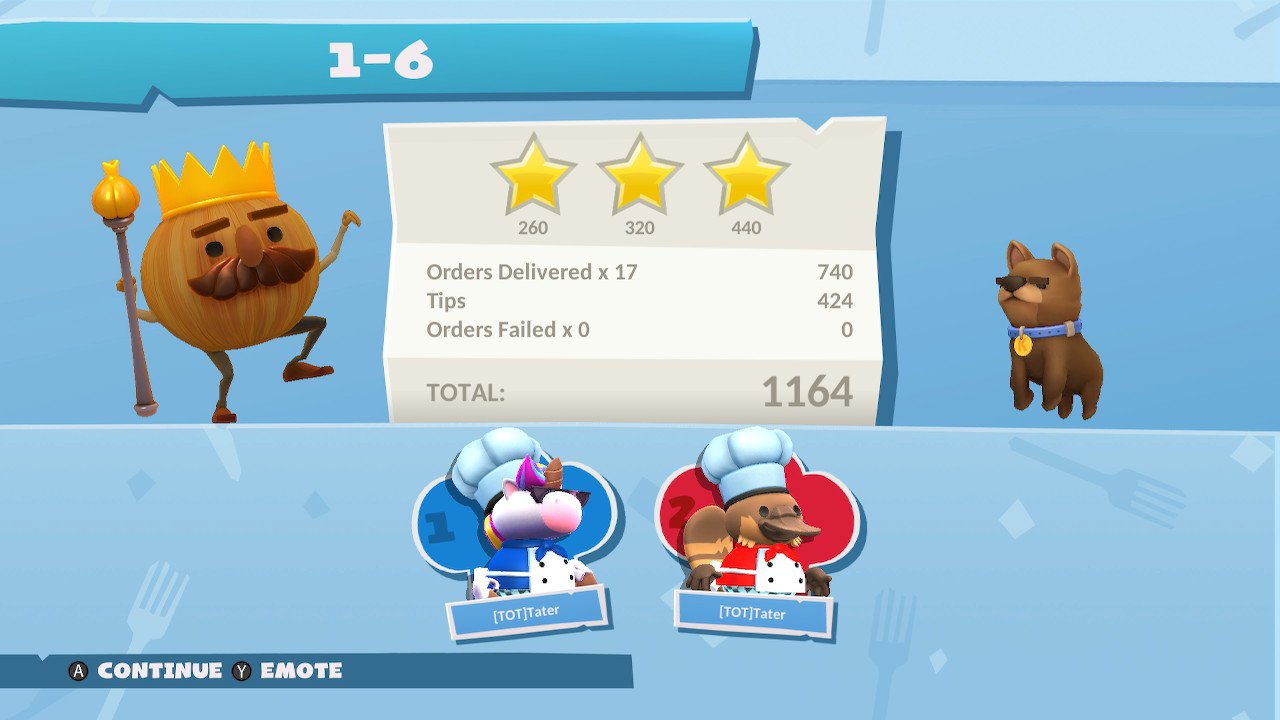 We'll be keeping score right here in the article all day, too, so you can easily keep track where your top rivals rank. Also, feel free to tune in to our Overcooked 2 livestream at 5:00 p.m. PT where I'll personally be contending alongside today's top competitors for fame and glory.
So whaddya say? Ready to put your culinary chops to the test? Don't get (over)cooked, stay off the hook!
---
Knights of the Unbread
1. @piper_tennis [1349]
Kevin's Kitchen Catastrophes
2. @ChuchuIkoro [1311]
3. @tater_n_tots [1164]
4. —
5. —
Leave a Comment