Your jaw dropped during the Direct, you gasped at the gorgeous Limited Edition packaging in Europe, and now you're getting one more nice surprise when it comes to Super Smash Bros. Ultimate. Included in the European exclusive Limited Edition is now a steelbook case for the game as well. Have a look: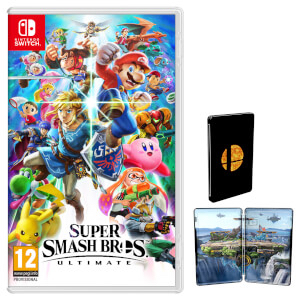 The outside gives us the glorious, flaming Smash logo that set the world ablaze with its reveal, while the interior shows off the Switch game's take on Battlefield. We now also know this package's price point: £89.99, or about $115.
If that's a bit much for you, you can grab just the game and steelbook for £59.99 instead, or a little over $75. Again, both of these are exclusive to Europe with no announcement of a wider release in America, Japan, or otherwise. Fingers crossed though, because that whole cast artwork (now freshly updated with the Direct's additions) deserves to be displayed!
Leave a Comment