We're less than a week away from the first rounds of the Splatoon 2 World Championship and Nintendo has finally shared details about the first half of the tournament.
Teams will start out slinging ink in Turf War. Those who advance to the Semifinals and Grand Finals will be transported into the realm of Ranked Battles. As for rules, Nintendo has pulled certain regulations from Splatoon tournaments all over the world. What will remain the same no matter what mode the teams are playing is that the secondary (sub) ability for gear will be disabled. There's no stacking here!
Below is the full itinerary (time, maps, and rules) for the Seeding and Semifinals:

Opening Rounds (Seeding) – Monday 6/11 @ 3:30 p.m PT
All games will be played in Turf War

Teams will play 2 matches in a mini-seeding bracket

After play, the teams will be ranked by win-loss record

Of the two teams that finish 1-1, the higher seed will go to the team that won the first match

Four stages will be available. Once a stage is selected, that stage may not be selected again

After the first 2 matches, 2 stages will remain. The team that selects the remaining (third) stage will be selected by coin toss

Stage Selection: Wahoo World / Piranha Pit / Manta Maria / Arowana Mall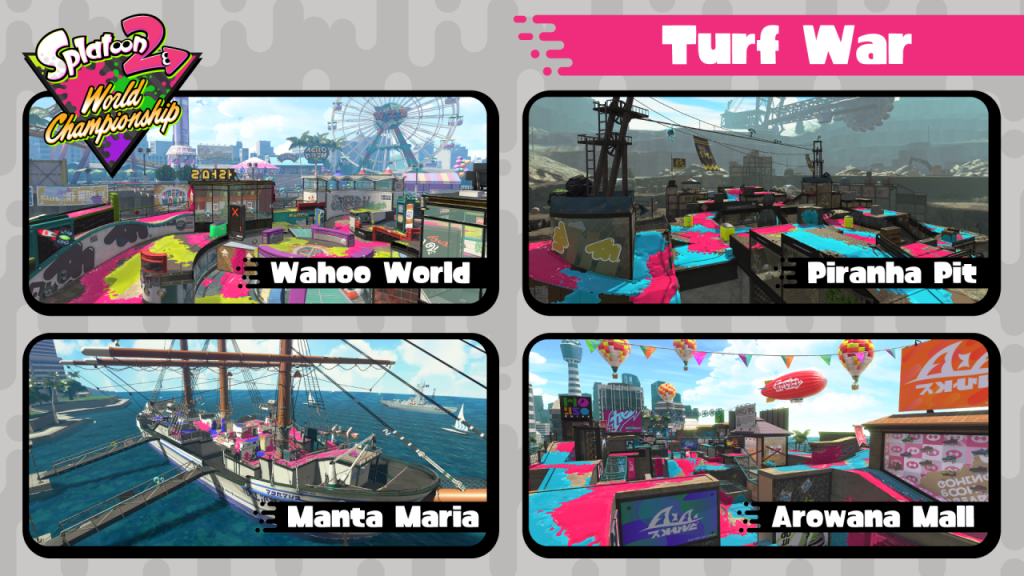 Semifinals Matchups – Monday 6/11
Matchups will include #1 vs #4 and #2 vs #3

The team that is first to reach 3 wins (out of 5 games) wins the match and advances to Grand Finals

1st game: Splat Zones – MakoMart

2nd game: Clam Blitz – Sturgeon Shipyard

3rd game: Tower Control – Snapper Canal

4th game: Rainmaker – Kelp Dome

5th game: Tower Control – Inkblot Art Academy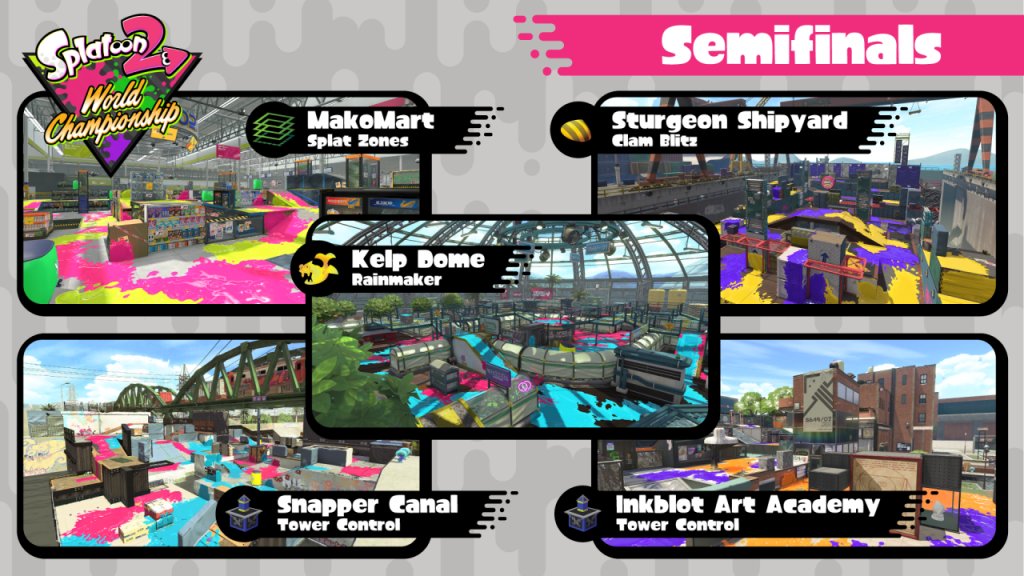 Grand Finals – Tuesday 6/12 @ 1:00 p.m PT
The team that is first to reach 4 wins (out of 7 games) wins the championship

Ranked Battle stages to be shared prior to Grand Finals
Be ready for this international showdown next week. You can watch the livestream on Nintendo's E3 site, as well as its YouTube and Twitch channels. Happen to be in the Los Angeles area? You can attend the event on a first come, first serve basis and even get some swag if you're a My Nintendo member!
Leave a Comment