We were treated to some surprise news about Slime-san last month. The platforming title about some goo and his bird buddy was in the physical release pipeline over at Limited Run Games. We didn't get any insight about the release date or what would be included back then — but that's changed this week.
Sales kick off next Friday, June 8th, and the game will be available along with some other goodies featuring the green, gooey hero.
Breaking down what's inside the Collector's Edition, Fabraz and Limited shared a GIF that showcases all the extras included:
Here is what is inside the Slime-San CE, thank you @Fabrazz for making this gif! pic.twitter.com/tyn7uTKrFO

— Limited Run Games (@LimitedRunGames) May 31, 2018

A more detailed look at what you can pick up is provided below. (Keep in mind that, at this time, the image is not the finalized, official version.)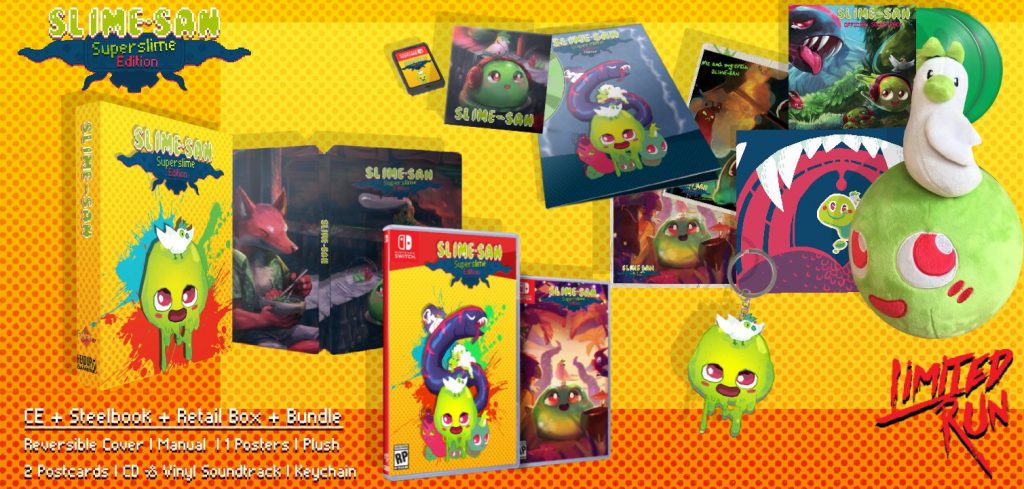 The Collector's Edition contains a steelbook, retail box with reversible cover (cartridge and manual inside), two postcards, CD soundtrack, poster, and keychain!
Also available for sale is the Slime-san plushie we've previously reported (it's currently sold online at IndieBox), as well as another pressing of the Slime-san vinyl from Black Screen Records. Both items are separate orders, but they can be bundled with the Collector's Edition.
Interested in this physical release from Limited Run Games? Make sure to set a reminder alarm for next week, as the game goes on sale at Friday, June 8th, at 7:00 a.m. PT | 10:00 a.m. ET.
Leave a Comment