For a while now the internet has been abuzz with speculation for the Nintendo Switch's first set of Pokémon games, with most rumors suggesting that they'll be titled Let's Go Pikachu and Let's Go Eevee. Most of the sources suggest that the game will be revealed in May, and it sounds like the Pokémon Company could be cutting it close.
As Serebii reports, the Japanese variety show Oha Suta is apparently set to reveal "shocking" Pokémon news on May 31st, which will apparently be the "moment a new history is born." The variety show has a history of announcing new Pokémon – it's where Alomomola, Gigalith and Zeraora all made their first appearances.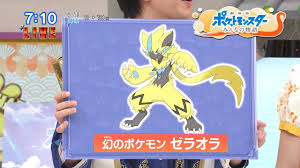 As the show airs at 6:45 a.m. in Japan, time-zones mean it'll air on May 30th in the western hemisphere – namely 5:45 p.m. Eastern, 2:45 p.m. Pacific, or 10:45 p.m. in the UK. That said, it's more likely the news would be broken before then – the entire world can't watch Japanese variety shows live, after all!
It's always possible the announcement is nothing major, and a change to the Oha Suta website retracts the "shocking" part, but all signs point to this week being quite an exciting one for Pokémon fans!

Leave a Comment