As we go into this year's E3 one game will be at the forefront of all the hype – Super Smash Bros. for the Nintendo Switch. As of right now we know surprisingly little, other than the fact Inklings will join the roster and Link will adopt his Breath of the Wild attire, but we should learn a lot more at the event.
Now, Nintendo has confirmed E3 attendees will be able to play the game on the show floor. To make the process easier, likely thanks to the massive queues accumulated by its tentpole titles in recent years, said attendees will be able to pre-book play slots in advance. Most intriguingly they'll be able to pick from For Fun or For Glory matches, suggesting the division that first appeared in the 3DS and Wii U games will be making a return.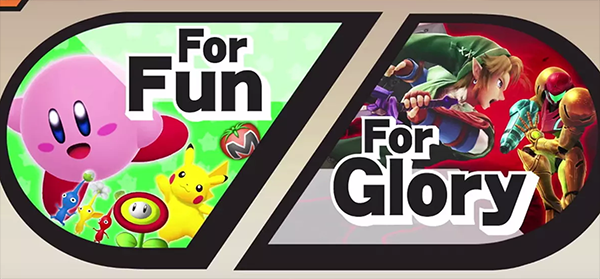 We also get confirmation that other games will be at Nintendo's booth and will not require reservations.
Read the full press release below:
REDMOND, Wash., May 16, 2018 – Nintendo fans always generate a lot of enthusiasm for the E3 video game trade show in Los Angeles, and excitement for the E3 2018 debut of the Super Smash Bros. game for the Nintendo Switch system is already at a fever pitch. To shorten the time fans will need to wait in line to try it, Nintendo invites E3 attendees to reserve play slots ahead of time for just this game. This should provide fans with a faster, smoother experience so they can play the Super Smash Bros. game and spend more time enjoying the rest of the June 12-14 show. Attendees will have two experiences to choose from: they can either reserve a ticket to play against people casually "for fun," or play "for glory" in a competitive elimination match.

Here's how the reservation system for the Super Smash Bros. game is going to work:

Anyone who registers for E3 2018 by May 31 will receive an email from E3 organizers on June 5 with details about how to reserve one electronic ticket to play the game (available while time slots last). Attendees should make sure to add [email protected] to their safe sender lists so the email doesn't get lost in their junk folders.
Signing up to play the game ahead of time is mandatory. No on-site registration will be available.
Tickets will be in the form of QR Code patterns that can be stored on a smartphone or printed out.
For more details about ticketing, visit https://e3.nintendo.com/attendee-faq for continuing updates.

Reservations will not be taken for any other games at Nintendo's booth, which will be available to play on a first-come, first-served basis.

"We're always looking to improve the ways people can maximize the fun they have with Nintendo at E3," said Doug Bowser, Nintendo of America's Senior Vice President of Sales and Marketing. "This year our focus is on the upcoming Super Smash Bros. game, and we want as many people as possible to give it a try."

Nintendo is also encouraging people to bring their Nintendo Switch systems to the show with them. Lucky owners who are spotted playing at the Nintendo booth or around the Los Angeles Convention Center could be selected by roaming members of the Nintendo team to receive an exclusive, collectible Nintendo Switch pin, while supplies last. People should be sure to bring their systems along for an opportunity to receive this one-of-a-kind swag, as well as for impromptu gaming opportunities with others.

As always, people can keep an eye on https://e3.nintendo.com for all of Nintendo's latest updates from E3 2018.
Leave a Comment