Lillie's new look and attitude was a fantastic element added to Pokémon Ultra Sun & Ultra Moon. Of course, with this new attitude, new merchandise was in order. Earlier this year at Wonder Festival Winter we were treated to quite a few new figures of Lillie: Figma, Nendoroid, and a figure from Kotobukiya. At the time, only the grayscale production models were shown, but Good Smile has Lillie's Figma version ready for viewing!
Dubbed Lively Lillie, we also know what accessories she comes with now. Her Pokémon Trainer gear is included: her backpack, Poké Doll, Sun Flute, Moon Flute, and Poké Ball. Cosmog ("Nebby") comes with her as well, with its own little stand, too. As for swappable parts, Lillie has three face plates — smile, beaming smile, and an angry expression — and two sets of hands so she can hold the Sun or Moon Flute.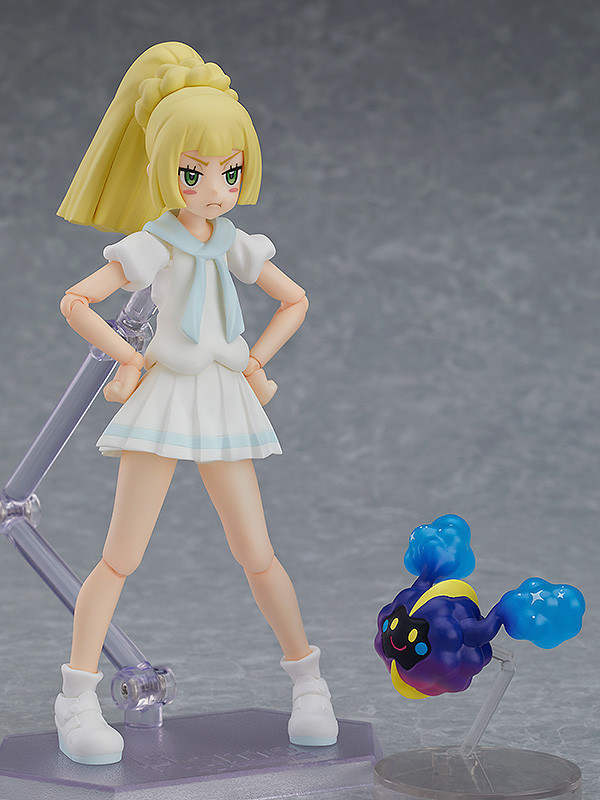 Two bonus accessories are available, but they're limited to specific shops. The Porygon themed Pokémon Refresh Dryer and the hands to hold it can be obtained by ordering the figure on Good Smile's site or through the company's affiliate retailers. Buying it from the Pokémon Center stores and website will earn you the Pokémon Refresh Brush instead.
Even with Lillie's release date slated for November, you'll want to check if there are any pre-order cutoff dates. For instance, Play-Asia's is May 21st — keep in mind, however, that it offers the Good Smile version with the Pokémon Refresh Dryer. If you're interested in buying it from Play-Asia, you can use the code NINWIRE and receive $3 off with orders $19 and up.
Digging Lillie's final production model? Will you be ordering her for your collection and recreating the Sun & Moon Flutes photo with Mizuki? Let us know on Twitter!
Leave a Comment