Nintendo has E3 down to a science at this point: host events on site for big games, run a video presentation right before the doors open to make everyone want to line up and play, and run Treehouse Live the entire time. Now we know exactly when all these are happening thanks to the new schedule Nintendo just shared on Twitter: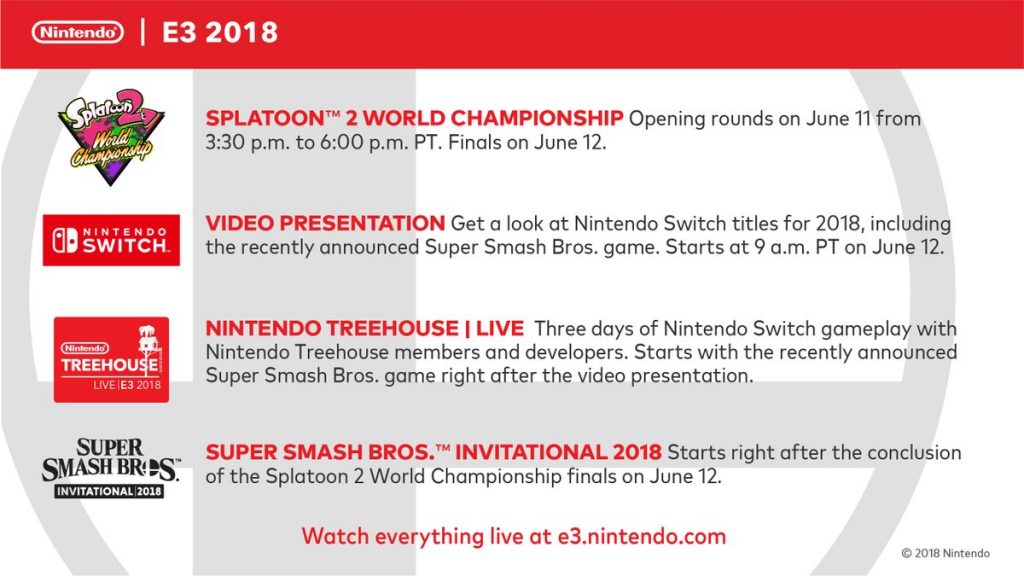 The Splatoon 2 World Championship will begin first, starting at 3:30 p.m on Monday, June 11th. Then we'll be up bright and early to watch the video presentation starting 9 a.m. on Tuesday, the 12th.
We already knew it, but being told this will feature Smash for Switch is making everything way more real. Right after the presentation, Treehouse Live kicks off with even more Smash and will run all three days with varying games getting the spotlight.
Last is the Smash Bros. Invitational, following after Splatoon 2's finals on the night of June 12th. It's going to be a packed few days, and you can expect us to be there to bring you the latest and freshest from E3.
Leave a Comment