Sonic Mania, the classic return of everyone's favorite blue hedgehog, has managed to amass over one million copies sold across all platforms. This achievement has come from Famitsu, who will be running a feature on the game's recently announced "Plus" update in an upcoming issue.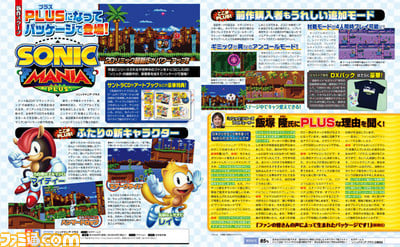 Shown in part, the spread will include an interview with longtime Sonic Producer Takashi Iizuka and will discuss the additions to the upcoming update. We know this will include long-lost characters Mighty and Ray, and could elaborate on the unexplained "Encore Mode."
Look forward to more on Sonic Mania Plus in the coming months as we lead into its summer release. Hopefully it won't be long 'til we see the game in action again, giving me an all too convenient excuse to jump back in.
Leave a Comment