Mega Man 11 is still quite a ways away, but Famitsu wants to know what fans think about the Blue Bomber's history in celebration of the 30th Anniversary. Most interestingly, they've outright said they want the opinions and memories of overseas fans to feature in an upcoming issue. So if you've been firing Mega Busters since '87, have been hunting Mavericks on the SNES for years, jacked into the Battle Network on GBA or were crushingly disappointed by the cancellation of Legends 3, time to speak up!
More directly, the survey asks your favorite of the Classic series of games in a drop down while also wanting to know your other favorites from the entire history of the series. It goes on to ask reasonings, your favorite characters and Robot Masters, and even your favorite stage BGM. After offering some well wishes, you're all set and might even end up in the published work.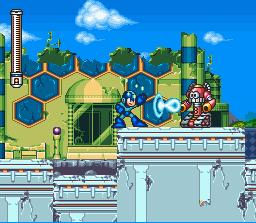 Personally I went with Mega Man 3, but had to mention just how mindblowing the Mega Man reveal trailer for Super Smash Bros. was. Here's hoping he's coming back to fight just like he's coming back to jump 'n shoot his way through the upcoming 11th adventure.

Leave a Comment