The version 1.4.0 update for mobile game Animal Crossing: Pocket Camp is now available to download, adding Fortune Cookies, new fish and bugs, perfect fruit, new animal requests, and more.
Fortune Cookies
The first new addition, the Fortune Cookie Shop, is located in the Market Place and allows players to purchase lootbox-like fortune cookies in exchange for either bells or Leaf Tickets.
Inside each fortune cookie is a furniture or clothing item, with rarity levels determined by the star rating a fortune cookie has.
In addition to the ability to purchase fortune cookies, some may even be given as gifts by campers.
Stamp Cards
Each fortune cookie purchased with Leaf Tickets will earn players a stamp on their stamp card.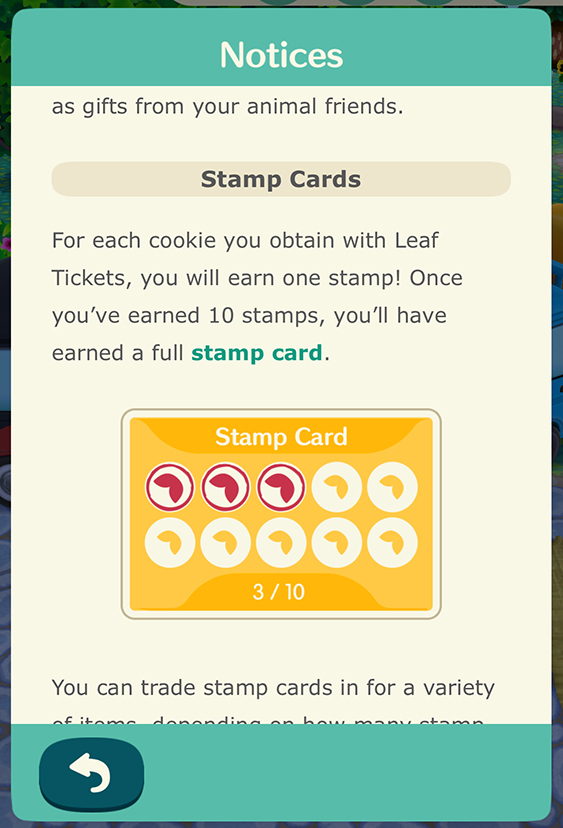 After 10 stamps have been collected, players can trade their cards in for items you can normally only obtain from fortune cookies, as well as items that were exclusively available during past events.

The first set of event items available through stamp cards is the one featured during last year's holiday event.
The Holiday 2017 (reissue) items will be available to trade from April 16th at 9 p.m. PST to May 16th at 10:59 p.m. PST — a godsend for those who missed the event or weren't able to craft all the items in time.
Those who aren't able to fill up enough stamp cards to trade for these holiday items won't need to fret, either, as the in-game notice notes that "items that can be acquired with stamp cards may be available again in the future with the addition of new events or fortune cookies."
Special Daily Bonuses
In celebration of the 1.4.0 update, new special daily bonuses have been added to the game.

Starting now and ending on April 25th at 10:59 p.m. PST, players can receive Leaf Tickets and fortune cookies just for logging in to the game.
Here's a breakdown on what players can receive:
Day 1: Marshal's pastry cookie x 1
Day 2: Rosie's pop-star cookie x 1
Day 3: Filbert's rocket cookie x 1
Day 4: Leaf Ticket x 10
Day 5: Leaf Ticket x 10
Day 6: Leaf Ticket x 10
Day 7: Leaf Ticket x 10
Day 8: Leaf Ticket x 10
Day 9: Sparkle stones x 1
To receive all gifts, players must log in for a total of nine days straight during the bonus period.
Memories
Memories are another new feature added to the game: By collecting specific furniture and inviting certain animals to your campsite, players can watch special "memories" starring their campers, each with certain unlock requirements.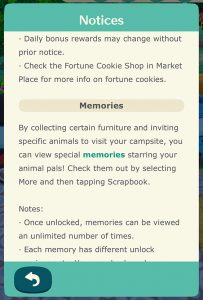 Players can look at memories and check their unlock requirements by selecting "More" on the user interface and tapping "Scrapbook."
Once unlocked, players can view memories an infinite number of times.
Perfect Fruit
Another mechanic from the main series of Animal Crossing games is added to Pocket Camp in the form of perfect fruit.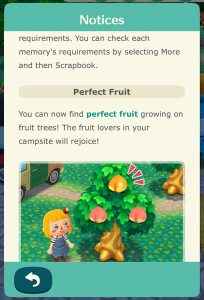 Not much detail on perfect fruit is provided in the in-game notice apart from the note that "fruit lovers in your campsite will rejoice!"
New Camper Requests
Campers are now loaded with new requests, although, again, the in-game notice doesn't provide a ton of detail on this addition.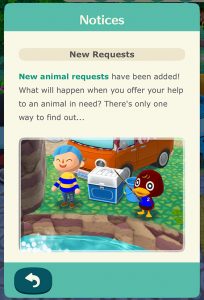 New Bugs and Fish
Sunburst Island, Saltwater Shores, and Lost Lure Creek now have new bugs and fish available to catch — and deliver to needy campers.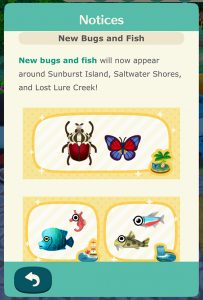 The sea horse and Napoleonfish can be found in Saltwater Shores, the loach and neon tetra at Lost Lure Creek, and the agrias butterfly and goliath beetle on Sunburst Island.
Miscellaneous Tweaks and Additions
Lastly, the maximum amount of furniture and clothing players can hold has been raised from 1,000 to 1,500, a Leaf Ticket x 2,500 bundle was added for purchase, a few iOS-specific crash fixes were made, new push notifications that "announce the current in-game situation were added," "other minor issues were addressed," and the screen display was "slightly adjusted."

For players that log in today until May 16th at 10:59 p.m., 20 Leaf Tickets will be given out as a one-time gift for their "patience during the maintenance period for [the] update."
Players interested in playing with the new features can now download the 1.4.0 update from the iOS App Store or Google Play Store.
What're your thoughts on the additions? Let us know in the comments!
Leave a Comment