There are only two months to go until Harvest Moon: Light of Hope Special Edition releases, and we're happy to reveal that details for it have finally been shared by Natsume. Originally released for mobile devices and PC, the Nintendo Switch and PS4 versions have been promised their own changes and additions, including co-op!
One player will control the namable farming protagonist, while player 2 will control Soleil, a Gem Sprite. Whether it's farming together, taking care of animals, or collecting materials, you and a friend can certainly work in tandem and maximize profits with the hope of expanding your farm.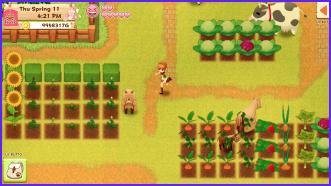 Soleil isn't limited to co-op mode, as there are a brand new characters in Light of Hope that can be interwoven into the game's overall story for a single-player experience. Soleil is also a marriage candidate and has the ability to change into a human form once certain conditions are met.
Lastly, DLC is planned for Light of Hope. Split into four parts, the DLC can be bought individually or all together via a Season Pass. No price point has been mentioned yet, and the DLC has only been described as "designed to enhance and offer more of a unique Harvest Moon gameplay experience!" at this point. We'll make sure to update you with more info about all of this once it's made available.
Harvest Moon: Light of Hope Special Edition for Nintendo Switch will release on May 29th, 2018. Buying it at GameStop will give you the bonus of adding a new plush to your collection: a chocolate cow! Interested? I highly recommend pre-ordering the game ahead of time as supplies are limited.
---
Source: Natsume PR
Leave a Comment