One of the big surprises from last week's Nintendo Direct featured Splatoon 2 and its new content, both free and paid, coming to the game this year. With a promise of Rank X details being posted earlier on, the Squid Research Lab has shared the official details on the US Tumblr page and the official Japanese site for the game.
RANK S+ TO RANK X
Inklings from the S+10 to S+50 tier will be promoted instantly to Rank X when it launches. Players who rank up from S+9 will be given the option once Rank X is implemented into the game.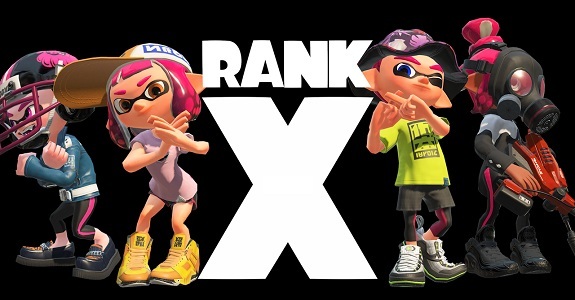 The Squid Research Lab also shared numbers of the current breakdown of ranked players:
| | |
| --- | --- |
| Rank (Prior to Change) | Spread |
| S+10 ~ S+50 | 1.0% |
| S+0 ~ S+9 | 6.4% |
| S | 5.2% |
| A- ~ A+ | 20.7% |
| B- ~ B+ | 33.0% |
| C- ~ C+ | 30.0% |
※Calculated based on players that played Ranked Battle within the last week
※Because we rounded up from the hundredths decimal, the total may not be 100.0% exactly
Just because Rank X will be the highest rank available doesn't mean it will function like the S tier. A power system is in place (similar to Splatfest power) and you'll be matched according to the "score" you have there. This power, dubbed X Power, is only good for the month, as all Rank X players will have their scores reset on the last day of the month.
Sadly, due to the competitive nature of this new mode, players who do not meet a specific Power X threshold will be demoted back to S+9 and will have to work their way back into Rank X. Bragging rights are available, as the top 500 players and the top scoring player for each weapon in Splatoon 2 will be ranked and listed within the SplatNet 2 app.

Other differences to the mode involve map rotation — only eight maps will be available to play each month. Instead of having multiple combinations due to having over 20 maps, the eight map limit is intended for competitive players to utilize the strategies consistently.
Outside of Rank X, the implementation of this new feature also affects the future of Splatoon 2-free DLC updates. Instead of a new weapon each week, a bundle of new weapons will be added once a month. As for new maps, they'll debut around the time of the Rank X reset each month.
Despite all this new information, we still don't have a solid release date for Version 3.0. The Squid Research Lab continues to estimate a late April release.
Now that we know how to make our way into this new, exclusive rank, will you be gunning for Rank X status next month?
Leave a Comment