Nintendo and Google have partnered up to offer fans a new way to celebrate March 10th, aka Mario Day (Mar10? Get it?). As VentureBeat reports, after updating your Google Maps app you will be able to replace the generic blue arrow used during navigation with Mario in his kart. This promotion will run for a week.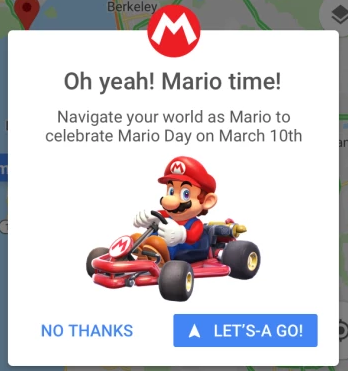 To activate the change users can click on the question mark box in the corner to activate the Mario mode. Mario is the only character usable but it's still a fun feature, and who knows if it might lead to something more like the classic Pokémon GO precursor April Fools joke.
Finally, I can pretend Mario is stuck in traffic and also needs help getting directions to the Korean restaurant across town!

Leave a Comment