Welcome to Speedrun Sunday: that sadistic time of the week when we dare to challenge both your D-pad's durability and sanity's stamina with the ultimate test in video game bragging rights.
Hot off the somersaulted stomps of our Super Mario Odyssey challenge comes another round of powerful pops that'll leave you jump scared with terror. That's right, second-rate siblings with a penchant for poltergeists: We're grooming our 'staches for yet another super powered balloon trip through otherworldy Kingdoms.
THE CHALLENGE
Dressed as Luigi, who can find our balloon hidden in the Bowser's Kingdom the fastest in Mario Odyssey's new mode, Luigi's Balloon World?
The code for today's bountiful balloon heist is 002-K60-0JF. The green garbed globetrotter with the fastest time by midnight PST tonight will win a coveted $10 eShop card (North America), along with the illustrious title Super Balloon Trip Champion.
THE RULES
All participants must be wearing Luigi's iconic cap and outfit. Use of any other outfits won't qualify you for today's cash prize.
You only get one shot at popping these bad boys, so make it count! If you feel your time won't make the cut, make sure to pause and hit retry before reaching the goal.
All submissions must be made using the Switch's 30 second video capture feature ending with your clear time.
Tiebreakers will be determined by the participant with the most coins gathered throughout Luigi's Balloon World, the total of which is located right next to your Ranking (as shown in the image below).
Follow @NinWire and @cityw0k on Twitter and retweet this post to qualify for today's cash prize. After that, simply share your videos in the Twitter comments and we'll personally send both your winnings and a social media shoutout within the week.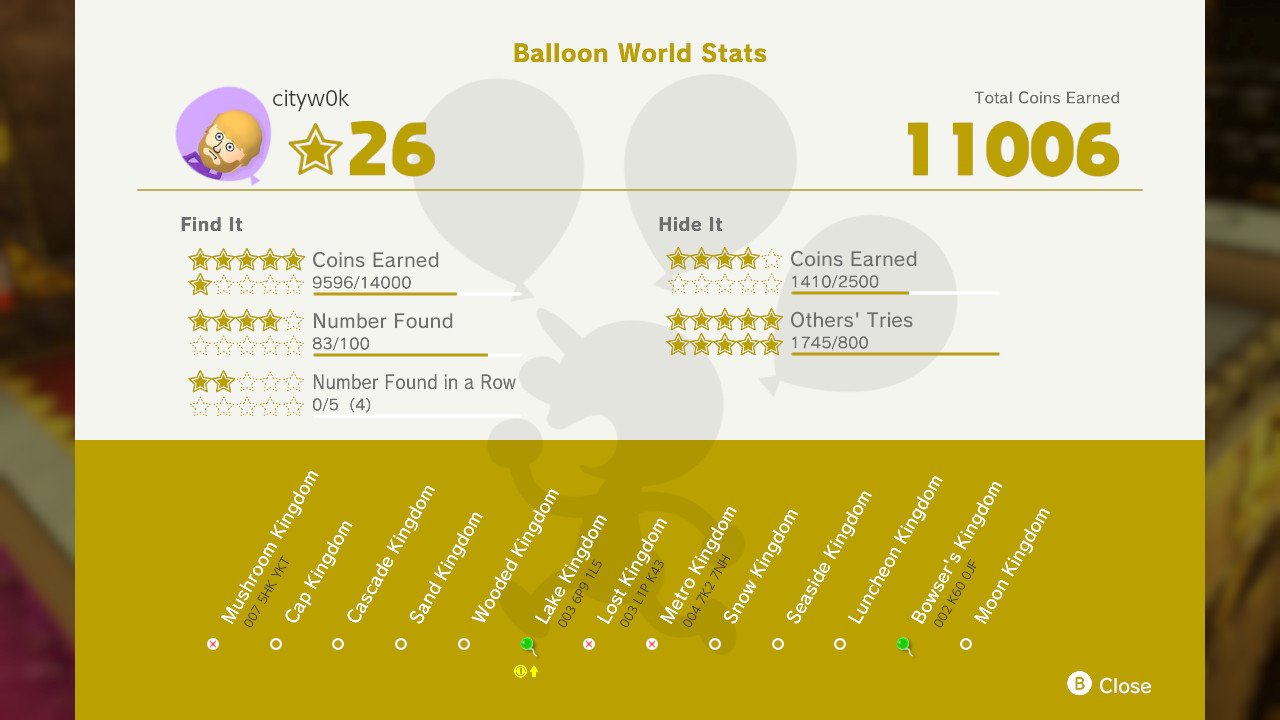 We'll be keeping score right here in the article all day, too, so you can easily keep track where your top rivals rank. Also, feel free to tune in to our Super Mario Odyssey livestream at 4:00 p.m. PST where I'll both tackle the community's balloons and make a second foolhardy attempt to speedrun Mario's latest adventure in its entirety.
So whaddya say? Ready to prove your brotherly worth… again? To quote the Poltergust pumpin' plumber himself, it's "Luigi Time!"
---
Super Balloon Trip Champion
1. @NinjaFrogtron [00:14]
Lesser Brothers From Other Mothers
2. @WereWaffleSyrup [00:13]
2. @vanthournut [00:13]
3. @bgreat19 [00:12]
3. @P_Merks [00:12]
4. @Mewtrainer11 [00:11]
4. @pokeharrybley [00:11]
4. @ghostkid825 [00:11]
4. @The_TrioForce [00:11]
5. @L0YALTE [00:10]
5. @ItsAMeMario497 [00:10]
6. @Doodyourface_G [00:09]
7. @nin10dohfuntime [00:08]
7. @iamCody2016 [00:08]
8. @CalvinieBobenie [00:07]
Leave a Comment