Happy March, squid kids! With the month kicking off on a Thursday, we're treated to some new Splatoon 2 goodies today (instead of Friday.) Let's see what's coming to an Inkopolis Square near you.
WEAPON: DARK TETRA DUALIES
The Dark Tetra Dualies intrigued us with its teaser last month. Promising us with up to four consecutive dodge rolls, the only thing missing was what would be rounding out the weapon's kit — and now we know what that will be! With its sub weapon dedicated to the search and destroy Autobomb, it's only fitting that the special weapon is Splashdown. Who needs an Ink Storm when you can make it rain and get a quad-splat instantly from Splashdown?
MAP: GOBY ARENA
Celebrating March Madness in style, the Inklings of Inkopolis Square are ready to throw down some ink. First shown off last month, the Goby Arena will now enter the game tonight at 6 p.m. PT | 9 p.m. ET, along with the Dark Tetra Dualies. Expect to see this stage to consistently be part of the map rotation over the next day or so.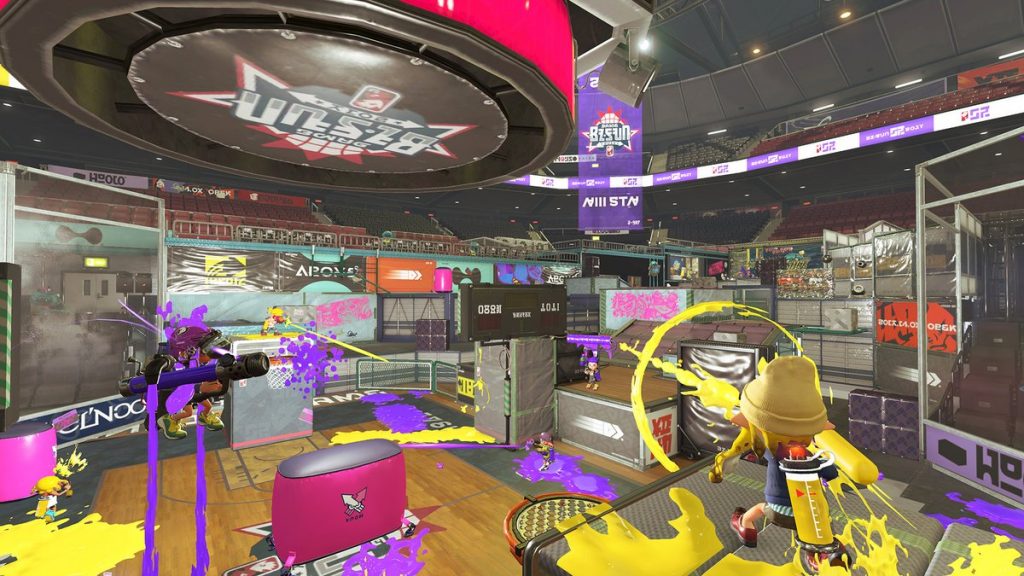 A DJANGO PICNIC UNDER THE SAKURA BLOSSOMS
The first Splatfest of March is coming to Japan. As we reported last week, it's Team Flower vs. Team Django. Following in step, the official Splatoon Japanese Twitter account has posted this Splatfest's art piece. Pearl and Marina are enjoying the spring weather by basking in the falling sakura blossoms, or enjoying some django. Regardless of teams, it looks like Pearl and Marina are having a relaxing day off filled with selfie photos together.
今回のお題は「花 vs 団子」。
まだまだ寒さは続くものの、雪が雨に変わり、花の蕾や新芽が膨らみ始め、春の兆しが感じられる今日この頃。
自然が美しさが増す一方で、この時期ならではの食材も滋味を増す。
心を満たす「花」と、食欲を満たす「団子」。
待ち遠しいのはどちらだろう? pic.twitter.com/SdTmZgewh8

— Splatoon(スプラトゥーン) (@SplatoonJP) February 28, 2018
FAMITSU INTERVIEW
Famitsu sat down with part of Splatoon 2's production crew: Producer Hisashi Nogami, Director Yusuke Amano, Art Director Seita Inoue, Director and Lead Programmer Shintaro Sato, and Sound Director Toru Minegishi. Thanks to Redditor Nimted, parts of the interview have been translated over on the Splatoon subreddit. Other than stats about where players rank, some details about various NPCs were shared. For instance, Marina can't super jump at all, so she takes the train, Jelfonzo is Jelonzo offspring, Spyke made so much money during the first Splatoon that he works from his laptop at the Square's cafe, Bisk left his hometown and lover for his band career, and much more! For fans intrigued by the world of Splatoon 2, definitely check out the thread.
AND NOW A WORD FROM GRIZZCO INDUSTRIES
A new month means a new Grizzco collectible. With the first March shift kicking off today, you'll have a 30 hour window to get a new shirt for your Inkling. Perhaps a promotional item for Crusty Sean's Crust Bucket or an employee uniform, the Crustwear XXL shirt can now be worn proudly. Sure, it's a tad too big for your Inkling, but sometimes the baggy look can be quite fresh!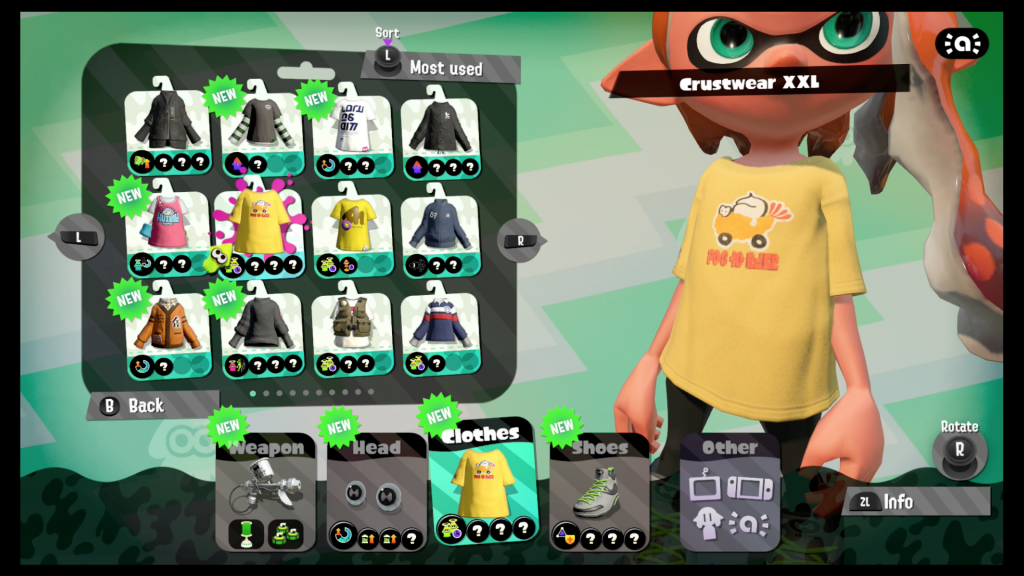 Whew! It's only the first day of March and Splatoon 2 is kicking it off in style. We'll see you at the next Turf War or Salmon Run!
Leave a Comment