Donkey Kong 3 is something of a forgotten gem in the Donkey Kong series. The protagonist, Stanley, hasn't really been seen again outside of Smash Bros. trophies, and the premise doesn't exactly fit with previous Donkey Kong games. Rather than climbing obstacles to rescue someone, Stanley only jumps up a series of platforms, using bug spray to protect his garden from all manner of bugs and the titular Donkey Kong.
Back in 1984, Nintendo licensed Donkey Kong 3, along with several other games, to developer Hudson Soft, who created officially licensed versions of them to be released for Japanese PCs. Plenty of the other games have found their way to the internet over the years, but Donkey Kong 3's interpretation hadn't surfaced up until now.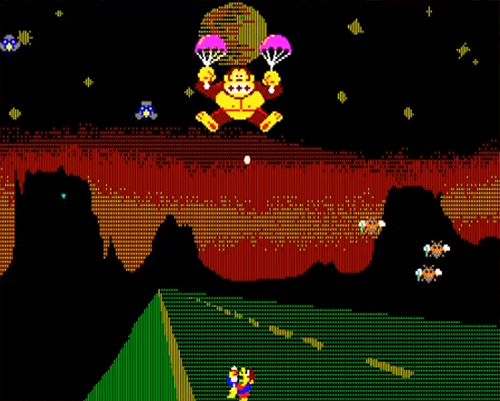 Some very dedicated fans found a Japanese online auction for a floppy disk copy of Donkey Kong 3: Dai Gyakushuu back in December, and proceeded to pool their money in order to win it. After all was said and done, the copy of the game ended up costing 44,500 yen, or roughly $420. Like any good fan group, they were looking out for the good of the world and proceeded to dump the disk image, creating a version of the game playable on an emulated version of the Sharp X1 Computer.
The game itself is only based loosely on Donkey Kong 3, so it isn't a direct port. Rather it's more like a sequel or spin-off. Donkey Kong 3: The Great Counterattack still features Stanley and Donkey Kong, but the platforms, gardens, and greenhouses are gone. The goal this time around is to stop a parachuting Donkey Kong from reaching the ground, while killing the same insectoid enemies. Thanks to this change the game has a variety of locales, including a highway, in space, and in front of some aliens. There are twenty stages total, which fans are already diving deep into.



These fans have unearthed a really cool piece of history here, one that has been unseen by most eyes outside of Japan for over 30 years. I have very, very fond memories of playing Donkey Kong 3 on the arcade cabinet in my grandpa's basement, and I can't wait to dive into what looks to be Stanley's wildest adventure.

Leave a Comment