The Star Allies news keeps pouring in, and this time it's a full on deluge of clips hosted on the just-opened Japanese site for the game. With sections dedicated to Copy abilities, Helpers, and the new mix abilities there's plenty to check out there before even delving into the story and sub game sections. Time to inhale it all course by course!
The biggest surprise lies in the game's story section. While we knew about Francisca and that she was a part of a trio, we now see the other two members of the Three Mage Generals. With one seeming to be the Fire to her Ice and the other potentially representing Spark, the three main Kirby "elements" are all covered by these mysterious (and cute) new enemies.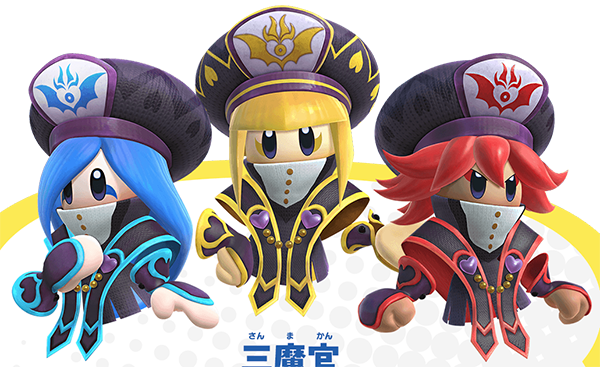 For Copy abilities, only the brand new ones get video treatment. Artist, Spider, Stick, and Festival all have a chance to briefly show off their stuff. While there are a few new moves for the first two (Artist Kirby slapping around enemies with a sculpture in particular), this is the first time we see Stick and Festival in motion. With plenty of fast, long distance attacks for the former and the latter looking to be screen clearing Kirby Dance I'm already onboard with the new hats.



Helpers get their own spotlight, with footage of nearly all of them. This includes ones for the new abilities (except for Festival), and the reveal that Chef Kawasaki will be taking up his cooking utensils as the Cook Helper. There's also a look at Friend Abilities, with the four member ones getting the most attention. After all, who wouldn't want to ride a Warp Star with your buddies and send out shooting stars?
Last is the amiibo section, showing that the whole Kirby series will be supported (and a little clicking reveals Qbby as compatible as well), with the figures providing in game items. They weren't the only bits of info in that section though, with a pair of Subgames making their debut.
The first is a woodcutter competition to see who can chop down a tree the fastest. Look out for obstacles and enemies though, as you'll have to switch sides and cut quickly to take first place. I'm getting a real Pokémon Stadium vibe from this particular minigame, while the next one feels more Kirby. The galactic home run derby will test your timing and precision to send a meteor back into space to travel the furthest distance and crush anything in its way.



That covers all the main, new stuff on the site but it's definitely worth clicking through yourself. You'll see plenty, and even with clips only being a few seconds long they all together make up quite a bit of footage for the Switch game of my dreams.
Leave a Comment