It's only one month to go 'til Kirby Star Allies is out to steal your hearts, and we now know it'll be featured in the next issue of Famitsu. The publication wasn't content with just waiting around though, and shared a look at its upcoming spread to show off two brand new and one more than welcome return of Kirby's trademark skill.
The two new additions are "Festival" and "Stick" — though I fully expect the latter to be renamed into something like Staff in the localized release. While it's tough to make out, Festival may involve your Helpers in some way; while Stick looks to be a more traditional weapon based ability à la Sword or Spear.
The returning ability is one that needs no introduction: Cook is back! The screen clearing, snack crafting, culinary powerhouse has only been in a couple Kirby games but made enough of an impression to be the puffball's original Final Smash. We also see a little bit on Plasma, another Super Star of a returning ability we spotted in the trailers — but it's the top right corner that steals the show.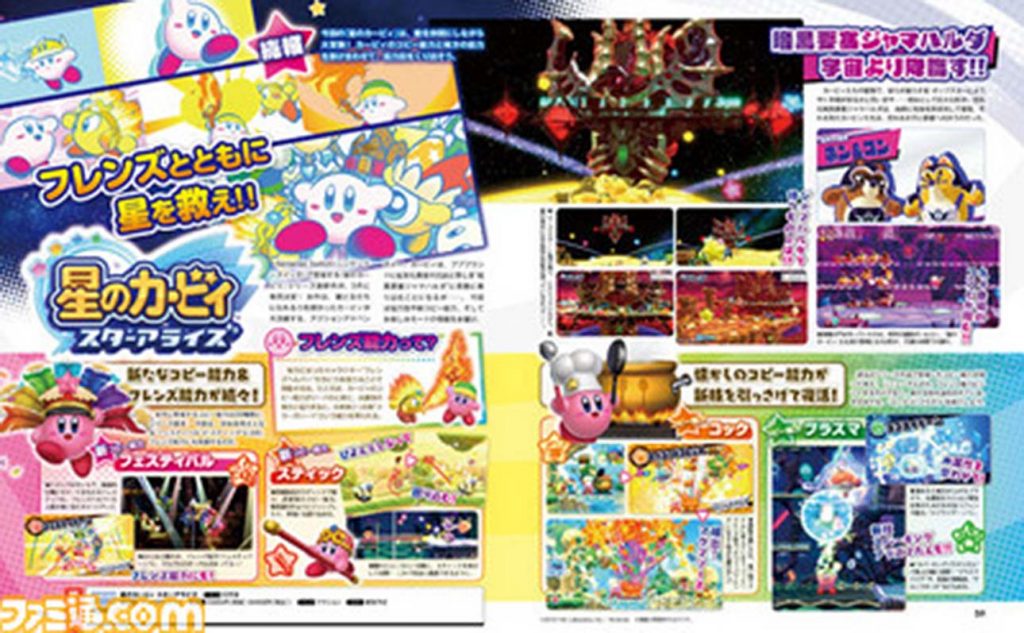 Two new boss fights are being shown, fitting in with the something old and something new that this spread seems to be going for. Coming back from Dream Land 3, boss duo Pon & Con are set to be affected by these mysterious hearts from space much like Dedede, Whispy Woods, and Meta Knight are. They're no Mr. Shine & Mr. Bright, but it's great to see more DL3 love here.
The other new boss is a little less identifiable but looks much bigger than even Swole Dedede. I'm spotting a couple familiar bits to them in terms of design motifs, like orbiting shapes that remind me of Pix and what looks to be a very Dark Matter-esque eye on a body design somewhat like Star Dream. Only time will tell just what this mysterious enemy is, but even this little glimpse points to being quite the fight.
You can look forward to more Kirby Star Allies info like this when the March issue of Famitsu releases on February 15th. And you can especially look forward to Kirby Star Allies floating onto Switch on March 16th.
Leave a Comment