Hot off the heels of this weekend's Splatoon Koshien 2018 tournament and the Off The Hook concert in Japan, there's been a swarm of Splatoon related news. First, there was the well-received announcement of Pearl and Marina joining the amiibo world earlier this morning, and now we've learned that players have some in-game additions coming soon.
MAP: GOBY ARENA

Much to our surprise, the Squid Research Lab has found that Inklings love to play basketball — and this couldn't be better reflected by the popular Goby Arena getting transformed during the sport's off-season. Swapping hoops for different ink rules, the arena can be converted for multiple ink smackdown sessions. Decked out with even a jumbotron, Goby Arena will be debuting soon.
WEAPON: DARK TETRA DUALIES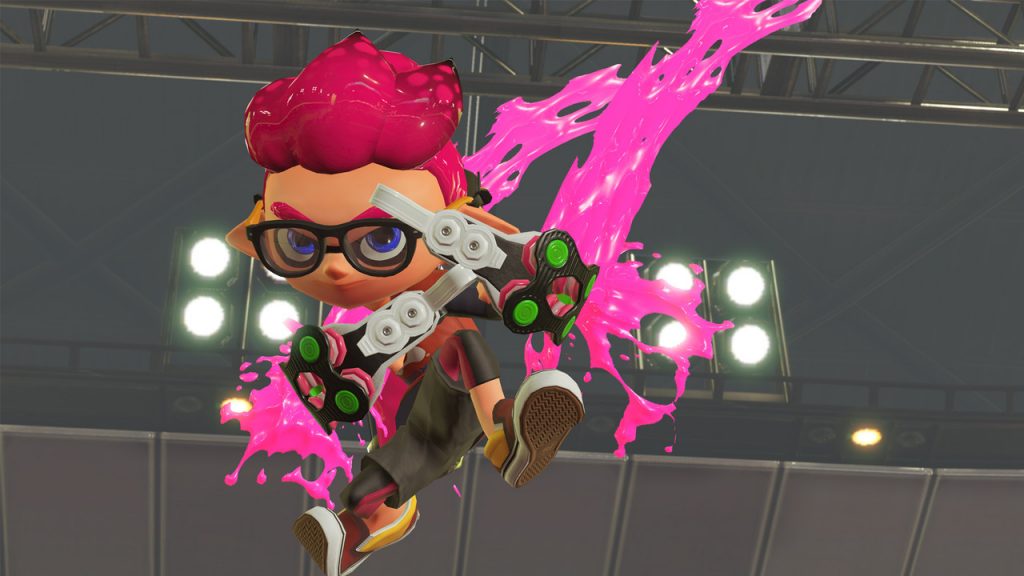 The dodge roll combo master, Dark Tetra Dualies, has be discovered! Interestingly enough, four ink nozzles mean four dodge rolls. Adding a new level to the competitive scene, that's, unfortunately, all we know about these dualies at the moment. When the latest and greatest for the dualies line drops, we'll hopefully find out more about its sub and special weapons.
Stay tuned, squid kids, for we'll be sure to continue reporting any and all ink-splattered happenings that hit the scene in the coming days.
Leave a Comment