If you're a fan of JRPGs it's very likely you're eagerly looking forward to Project Octopath Traveler from Square Enix, a pixel-filled modern adventure which received a demo a few months ago and is still scheduled for release on Switch in 2018. Now, the game's developers have sat down for an interview with Famitsu, which has handily been translated by Siliconera. We'll run down the essentials.
First up we learn the game's developer, Acquire, was picked thanks to their experience developing "What Did I Do to Deserve This, My Lord?" series, which similarly used a lot of pixel-art. It was still a process to get the final look, however, as the team set out to create "rich-looking pixel art enhanced by modern technology", and they debated whether things like water should be pixelated or photo-realistic.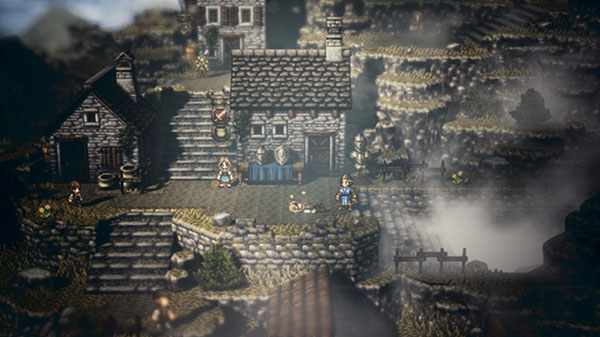 The main theme of the game's narrative is "journey", hence why it will have the perspective of eight characters as they explore the world. It's also revealed that the classes represented are based on real medieval Europe occupations, with the field commands being derived from these more down-to-earth jobs. Also worth noting is that Olberic is popular with the Square Enix staff thanks to him being the first character created for the game.
Octopath's turn based battle system was created so the game could be enjoyed by anyone, with producer Masashi Takahashi stating that action games are proving hard for him these days. That said, they wanted to make the game turn heads so they incorporated the Command Boost and Break concepts to add more strategy. Finally, it's confirmed enemy levels will be dependent on the area they're in and not scaled to the player.
You can dive into the Project Octopath Traveler demo now via the Switch eShop as we approach the game's release later this year!
Leave a Comment