Arcade Archives has been a strong supporter of the Nintendo Switch ever since launch and it's showing no signs of slowing down, with publisher Hamster announcing a port of the fan-favorite arcade version of Double Dragon to the system tomorrow via Famitsu.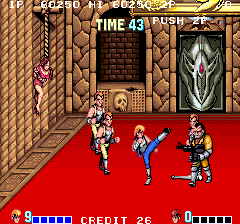 This version of the game first released in 1987 and was developed by Technos, who ported the title to the NES the following year, where it gained even more popularity. Various elements of the game have become cultural touchstones since, like the strongman boss Abobo and the strangely subtle post-apocalyptic setting. The franchise even got a questionable film adaptation in 1994.
You'll be able to grab Double Dragon for $7.99 / £6.29 / €6.99, so get ready for some classic Joy-Con co-op!
Leave a Comment