I was born in the early '90s, which makes me just a little too young to have appreciated the NES and SNES in all their glory when I was a kid. Sure, the first console I ever played on was the SNES, but almost all of my early gaming memories come straight from the N64. Looking back, some of my favorite memories include me spending time with my brother, parked in front of the tiny TV in our bedroom, platforming our way through a rented copy of Banjo-Kazooie. Saying we rented it is still funny to me, since we loved the game so much that we never returned it. To this day, we still have and play that same old copy of Banjo-Kazooie, with the sticker from Hollywood Video on the back and all. After years of playing both Banjo-Kazooie and Banjo-Tooie and pining for a proper sequel after the cancellation of the GameCube's Banjo-Threeie, Yooka-Laylee arrived to give me my fix.
Founded by ex-Rare employees, Playtonic Games launched a Kickstarter campaign in 2015, asking fans of Banjo Kazooie to help bring a brand new N64-style platformer to life. That new project was Yooka-Laylee, which launched on April 11th, 2017 on a variety of platforms — but, with the Wii U edition of Yooka-Laylee cancelled, Playtonic was keeping the Nintendo Switch version under wraps for just a bit longer. Fast forward to today, December 14th, 2017, and Yooka and his bat buddy Laylee have arrived on Switch, and Playtonic Games' signature style of puzzle-platforming has finally come home.
A Storybook… Beginning?
Right from the get-go, the similarities to Banjo-Kazooie are present, with each save file having a scene of our hero and his flying friend hanging out around their humble abode. I promptly scrolled over to the the third save file, which depicts Yooka and Laylee lounging in the sun outside of their pirate-ship home, and selected that third save, as I always do, to start my game. (This third-save habit of mine actually started because of Banjo-Kazooie — I always liked that the third slot in Banjo-Kazooie depicted Banjo playing a Game Boy, so that's the one I always picked. This habit stayed with me throughout my life.) The game starts with a lengthy cutscene showing Capital B enacting his dastardly plan to steal all of the world's books, followed by Yooka and Laylee watching an antique book they've found get sucked away. As it flies, the golden pages escape, giving the game its main collectible: Pagies. What follows is Yooka and Laylee's quest to get their book back, and find as many Pagies as they can to fill it back up. It's a pretty shallow premise, but for the collectathon that is Yooka-Laylee, it works.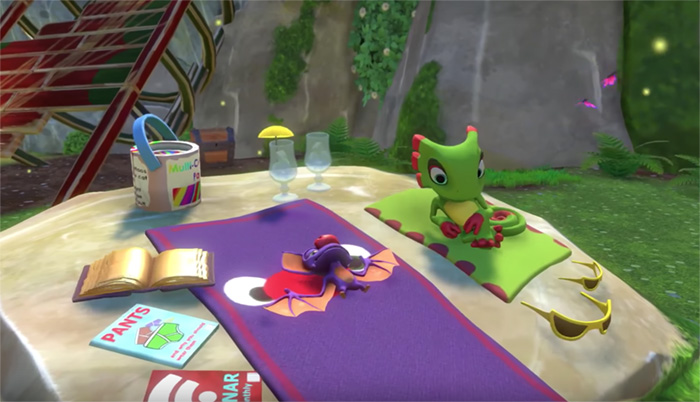 You quickly meet a snake named Trowzer who's humorously jammed himself into a pair of khaki shorts, intent with helping you along your journey by selling you new moves in each level. These moves cost you Quills, which you collect throughout the game's worlds. It's smart to buy every available move as quickly as possible, since they will be key to finding more Quills and opening up possibilities to gather more Pagies. It's also smart to get to the second world as fast as possible, since it's at that point where you learn to glide with Laylee — apparently, these two pals have never thought of trying to fly together before a snake had to teach them — which will vastly open up your movement options, as well as make for a more enjoyable platforming experience, which I'll expand on more in a little bit.
Every ability is pretty useful — Yooka and Laylee can learn to ground pound, fire off sonar to reveal hidden platforms, grapple with Yooka's tongue and so much more. My favorite abilities allow Yooka to absorb the properties of what he eats, which alters his appearance based on what is consumed. It's a small thing, but the visual that changes to Yooka when using this ability was one of my favorite additions to the game.
Short Story, (Almost) Countless Collectibles
As far as content in Yooka-Laylee goes, there's a lot of collectible content, but not a lot of substance to it. The game consists of five worlds, with each requiring a certain number of Pagies to unlock. The number to unlock each Grand Tome, the "front door" to each world is small, and you can reach the fifth world pretty quickly. I did so in about nine hours, though I'm sure it could have been done faster. The caveat here is that you can't enter the final area of Capital B's lair without first collecting a total of 100 Pagies — for some context, I first hit this point when I had 43 Pagies. There's a lot of exploration involved in order to complete what little story there is, but I'd still recommend reaching World 5 as quickly as possible, since it opens up your arsenal and allows you to explore every inch of each world with ease.
On top of unlocking the main part of each world, you can also pay additional Pagies to expand each world, which adds a great deal of additional challenges, Pagies, Quills and areas to conquer. This is where Yooka-Laylee shines the most: solving puzzles and finding each collectible is a blast, and it fills the game with nostalgia. The downside here is that large collectathons don't appeal to everyone, and Yooka-Laylee doesn't offer much outside of that.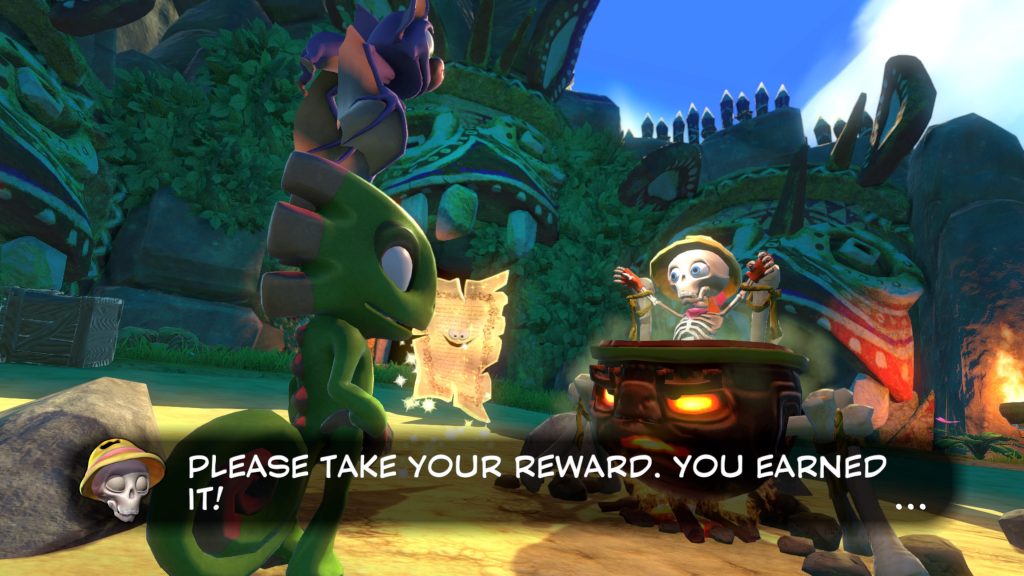 An Eclectic Cast
Yooka-Laylee has an absolutely massive cast of characters, ranging from regulars who appear in every world, like the aforementioned Trowzer and the human-octopus hybrid, Dr. Puzz, to one-off, world-specific characters, often involved in challenges that will reward you with Pagies. Some characters are very well designed and fit nicely into the world of Yooka-Laylee, especially smaller characters like the snowmen in Glitterglaze Glacier. Others, however, simply don't mesh with the game at hand. There are a lot of characters that feel poorly designed and "off," which is a real shame. Rather than being given a full, memorable cast of characters, I was left feeling awkward and disappointed after meeting most of them and realizing that they didn't really fit.
The dialogue is pretty funny in several places, with a lot of humor coming from the sassy Laylee and her interactions with Yooka and Rextro. Other times, the dialogue falls severely flat or even feels recycled in a couple places. Certain characterizations are full of clichés and misguided jokes — almost all of Trowzer's dialogue suffers from this fault; his personality just doesn't seem believable.
Platforming and Performance
Yooka-Laylee on the Switch runs pretty smoothly… most of the time. In the early areas of the game there appear to be some frame rate stutters, but they weren't consistent, and they didn't last long. Most of the other areas run pretty smoothly unless there's a lot of motion on the screen. The only world this was a huge problem in was World 4, Capital Cashino, where the game would outright freeze for a second or two every few moments if I happened to glide over areas full of spinning roulette wheels. Yooka controls pretty smoothly most of the time, especially when rolling around, though his walking speed is slow. In the beginning of the game, the physics don't play nicely with the controls and the abilities at your disposal, and the platforming feels clunky and hard to master without the ability to glide and position yourself over platforms easily. Once you have more movement options, the game feels a lot better to play.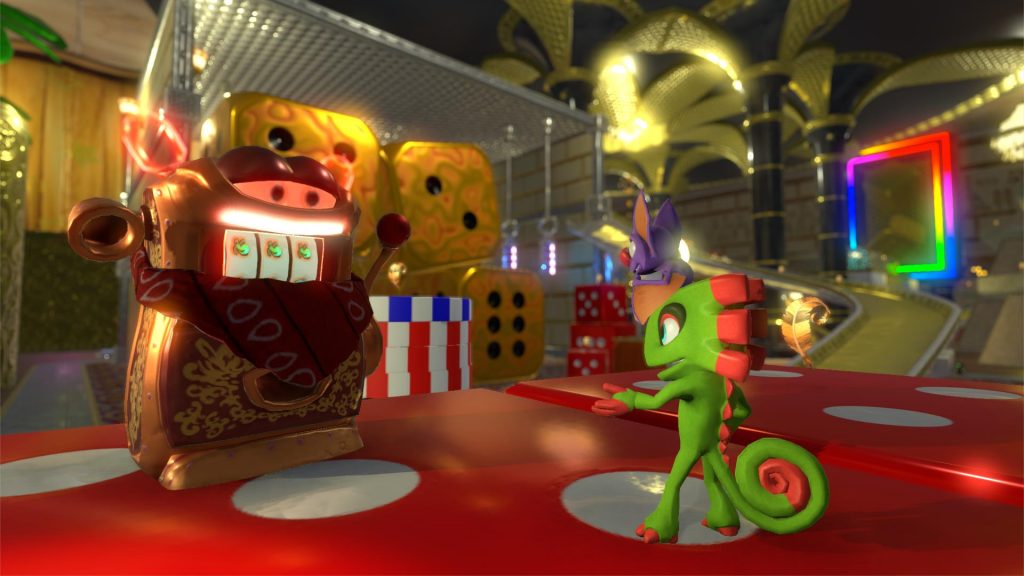 The hit boxes involving enemies also feel imperfect — it's easy to take damage when swarmed by enemies, even when continuously attacking, and I found that the game would sometimes register that I was taking damage before I even came into contact with the enemy.
The camera is slightly finicky, no matter which camera option you've selected, though Manual seems to work best. Overall, it isn't a deal breaker, but there are a few bizarre camera problems that I couldn't quite get over. One of my biggest grievances with Yooka-Laylee is the fact that the camera zooms in directly over Yooka's head when you fall from a great height, giving you an incredibly disorienting, top-down view of the fall. Late in the game you get the ability to fly freely while hanging from Laylee, but the controls are incredibly loose, and the camera always ends up zooming just a bit too close and makes the whole situation feel awkward.
All the Right Notes
Yooka-Laylee's soundtrack is absolutely perfect, settling so much in the same vein as Banjo-Kazooie that if you had told me they were unreleased tracks from that game, rather than new compositions, I wouldn't have questioned it for a second. It's a unique vibe that I haven't heard in other game music, and it really brings these worlds to life. The soundtrack is massive too, with variations in the music for different situations, like when you're underwater — the music changes slightly, becoming muffled and adding certain other effects — and different areas of each world have tracks of their own as well, and they're all strong.
The music and sound effects also stand well on their own, and are able to stand apart from their influences to feel like their own individual set of tracks. I will say that I'm a sucker for every tiny noise that Laylee makes while out adventuring, though Yooka's main sound effects, mostly while jumping, took me a little while to get used to. Yooka's footsteps also change sounds depending on the ground he's walking on, and for the most part, it's very well done. The only oddity here is that his feet make a squeaking noise when walking on ice, and it's so out of place that I spent a good deal of time not knowing where the sound was coming from.
Bonus Bounty
The game has two sets of bonuses for the player to unlock. Most prominent are Rextro's arcade machines located in each world, unlocked by finding a Play Coin and presenting it to Rextro. These mingames are pretty lackluster, though they seem fun to play with friends in the local multiplayer. (Side note: Rextro is perhaps my favorite character in the game, his plentiful references to a simpler time and his misunderstanding of modern gaming are absolutely charming).
There are also special Tonics you can unlock by completing certain achievements in the game. These tonics act as game modifiers, giving Yooka and Laylee certain bonuses, like prolonged invisibility or a more powerful ground pound. They're nice to have, and once unlocked you can select which one you want to apply based on your playstyle. I really enjoyed prolonging my rolling time, making it easier to move through the worlds at a faster pace than Yooka's walk.
Final Thoughts
Yooka-Laylee is a powerful hit of nostalgia, from the gameplay to the music, and playing it really takes me back to my Banjo-Kazooie days, which is exactly what I had hoped for when the game was first announced. Despite a few flaws, it's a great collectathon, and a well done modern take on N64 puzzle platforming. Is it going to work for everyone? No, collectathons just aren't everyone's cup of tea, and that's fine. There are fans who wanted Yooka-Laylee made, and that's exactly why it's here: because the fans wanted it. It may not be executed perfectly or exactly how the fans envisioned, but it hits almost all notes that it sets out to. Though it's missing a little bit of the magic that was contained in the games that inspired it, Yooka-Laylee is an enjoyable adventure nonetheless.
Leave a Comment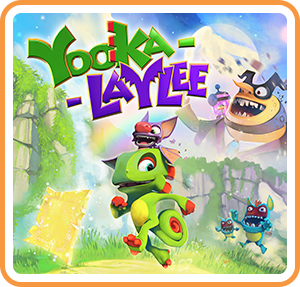 System: Nintendo Switch
Release Date: December 14, 2017
Categories: Platformer, Adventure, Action
Publisher: Team17 Digital Ltd.
Developer: Playtonic Games