Good news, fellow slime sacks and sackettes: Last week's tweeted teaser by Slime-san developer Fabraz came to a head today, unveiling plans to publish Eendhoorn Games' fantasy sports fueled mashup SpiritSphere on Nintendo Switch!
I'm INCREDIBLY excited to announce that… We'll be publishing SpiritSphere DX by @EendhoornGames exclusively to the #NintendoSwitch! One part tennis, other part magical beat down! Play solo or compete with friends! ETA Spring 2018! @NintendoAmerica @NintendoEurope #indiegame pic.twitter.com/xqwowavdTp

— Fabraz (@Fabrazz) December 11, 2017

Dubbed SpiritSphere DX, this addictive twist on tennis combines competitive local multiplayer mayhem with frantic arcade action, resulting in a magical beatdown that's difficult to put down. The game's essentially Windjammers' air-hockey inspired gameplay pixelated to the retro stylings of 8-bit Zelda — a glorious combination well worth its weight in Rupees, if you ask us.
Best of all, the souped up Switch port comes packing exclusive features and game modes, making it the definitive version for all you wizarding wayfarers on the go. Tate mode, for example, lets you play the game vertically with friends when undocked using two detached Joy-Cons, while Boss mode ups the ante via 2v1 matchups pitting two players against a brooding, boss-powered third.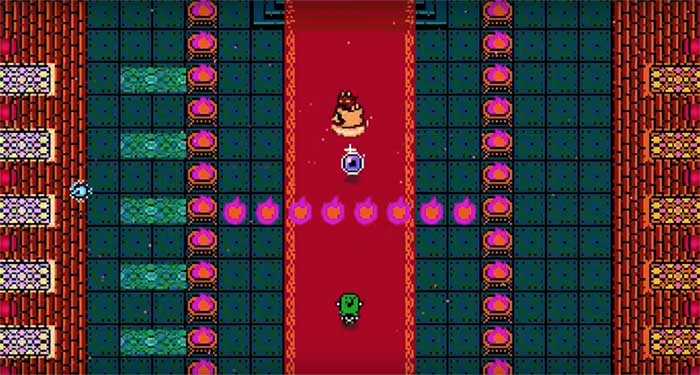 Feel free to check out the full feature list below:
FEATURE LIST
Competitive local multiplayer action!
Fast paced arcade style gameplay throughout!
Single-player campaign with dialogue, special encounters & modes!
Multiple stages, characters and spheres to play and unlock!
Retro flavored graphics and sound mimicking the games of yore!
Gameplay that is easy to pick up but hard to master!
Squash mode: Play a round of competitive magical squash!
Target mode: Break the targets in this challenging mode!
Tate mode: Play the game vertically, each player holding one attached Joy-Con!
Boss mode: More than two players but less than three? Play 2v1, where one player controls the boss!
Ghost mode: Not a strong player but want to contribute? Join as a ghost for shenanigans!

SpiritSphere DX is set to serve enchanted orbs on Switch in Spring 2018. In the meantime, lob up some love by watching the recently released announcement trailer.
---
Source: Fabraz PR
Leave a Comment