UPDATE 2: Thanks to a Twitter tipster by the name of @MarioDS64, we now know that the Mario Kart 8 Deluxe steelbook will be free for those who purchase a copy of the game starting next week at Best Buy. Luckily, our tipster was able to snag a steelbook early thanks to a manager override and was kind enough to share the images below. The item will also ring up for $59.99 on its own for those who don't buy the game, but what's the point of that?!
---
Update: The mystery item described below turned out to be a steelbook for Mario Kart 8 Deluxe. The product is available at Best Buy, but there's no word yet on how to get it. The listing reads:
Add this Mario Kart SteelBook case to your collection. Its precise, detailed structure makes it desirable for avid collectors, and the metal finish showcases the game artwork in bright, vibrant color. This Mario Kart SteelBook case is built to last for repeated uses, and offers a stylish alternative to conventional packaging.
Stay tuned for more details as they come in. Special thanks to @welchssx44 on Twitter for the heads up!
---
It's rumor time once again, with the subject being a game well past its release. Go Nintendo has received a tip and photos of a mysterious, shining Mario Kart promotional item. The tip comes from a "big retail" employee whose store received the item. When scanned in, it registers as a pre-order promo item; though when scanned alongside Mario Kart 8 Deluxe, its price does not cancel out, as is usually the case for these types of items.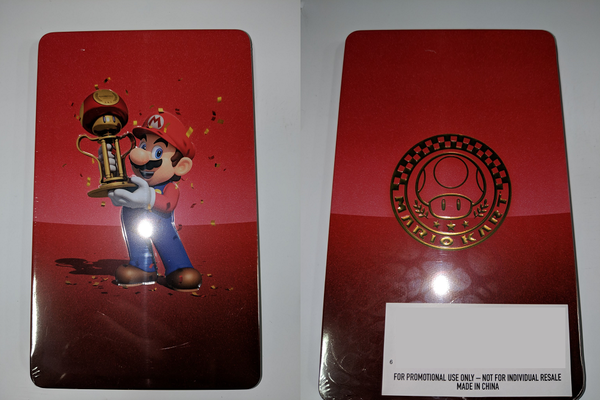 What's more striking is that no statement's been made over what exactly it is. It appears to be a decorative collectible, with a metallic sheen and plate-like design. The two most likely tie-ins, in my opinion, would be some sort of holiday promotion for Mario Kart 8 Deluxe that simply hasn't gone live yet, and the much more exciting prospect: a new Mario Kart may be in the works for Nintendo Switch.
Consider that second guess much less likely. For a promo item like that to be sent to stores, the game would have to be releasing fairly soon. Stores have seemed to drift away from providing bonuses when you place an order for a game versus when you pick it up. Still, stranger things have happened and it wouldn't be too out of the ordinary to see a Mario Kart title made for the Switch from the ground up at some point in the future.
Do take anything considered with some salt, as we'd hate to see Blue Shells coming our way if this turns out to be some kind of bust. Stay tuned as we hopefully learn more soon.
---
Via Go Nintendo
Leave a Comment