Alright Bboys and Bgirls, Floor Kids will soon be out on Nintendo Switch. One of the indie titles featured at PAX West and Nintendo's Nindie's Night, this breakdancing rhythm game was announced for release later in the year. The touch screen, Joy-Cons and Pro Controller compatible game was a standout in September, but we haven't heard much since then. With its "holiday release" time window creeping up, Nintendo has gone ahead and posted an updated look of the game to show off some features we haven't yet seen.

Though small, we've noticed the following:
Character Roster
With eight diverse characters promised, the latest video completes the full list of names. The following Bgirls and Bboys will be available as avatars:
Noogie
Scribbles
O-Live
Saboya
Bizzy
Hiyo Ono
Raquette
Ruckus

Similar to ARMS, each character will have their own dance moves. Every character will have toprock, downrock, power and freeze-type moves — and then some flair kicks in: We see this with Raquette, as she has four moves for each category. Chances are, moves like the Cee Cee Switch and Halo Spin only be available for her to use.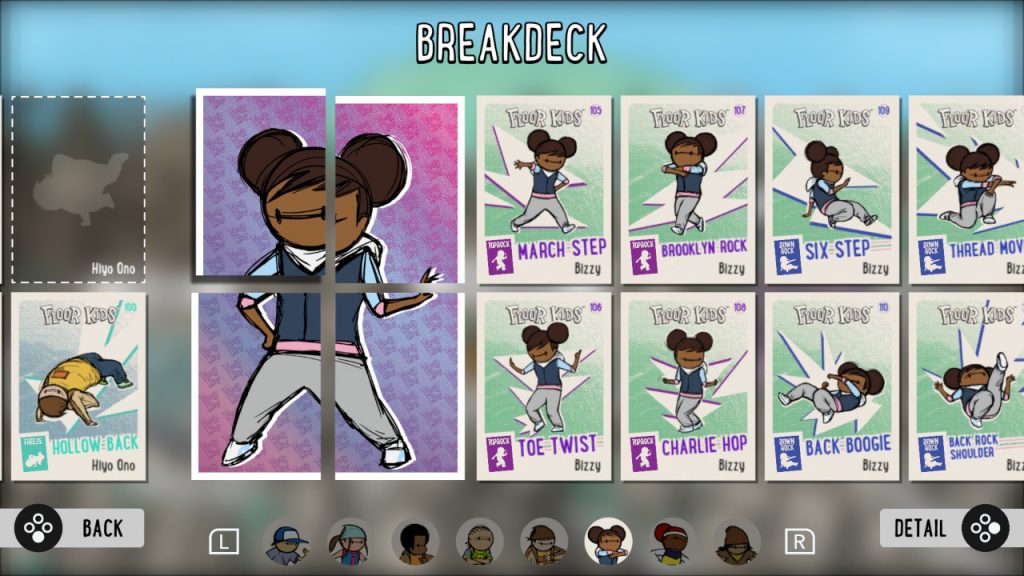 There's a "trading card album" aspect to the cards, and when browsing through, you can select a move and see how to perform it with animated control steps. To be the greatest dancer on the floor, get ready to combo your way to the top and throw some flair into your moves to gain extra bonuses. Doing so will probably cause your opponents to fall over themselves.
Locations
We'd only been given a glimpse of the overview map before. Now we have names for some of the locations, as well as a challenge counter underneath the stops. We now know the following information from the available footage:
The Studio
The Corner
The Metro
The Grocery
The Art Space

Each area looks to have 15 challenges at most. There's no final tally of locations, so as of right now we're looking at 75 different challenges in the game's "story mode."
Music
What's a breaking dancing game without music? DJ Kid Koala's final music count for the game stands at over 40 tracks. These songs might be tied to locations too, as "Keys & Cuts," "Cardboard & Concrete" and "5 Spot Stomp" are listed for The Corner map.
In preparation for the game's release, the Floor Kids crew has been updating its Tumblr page with some behind-the-scenes looks on the development process. For the aspiring game makers out there, definitely check out the start of the journey and how Floor Kids is making it to the Nintendo Switch.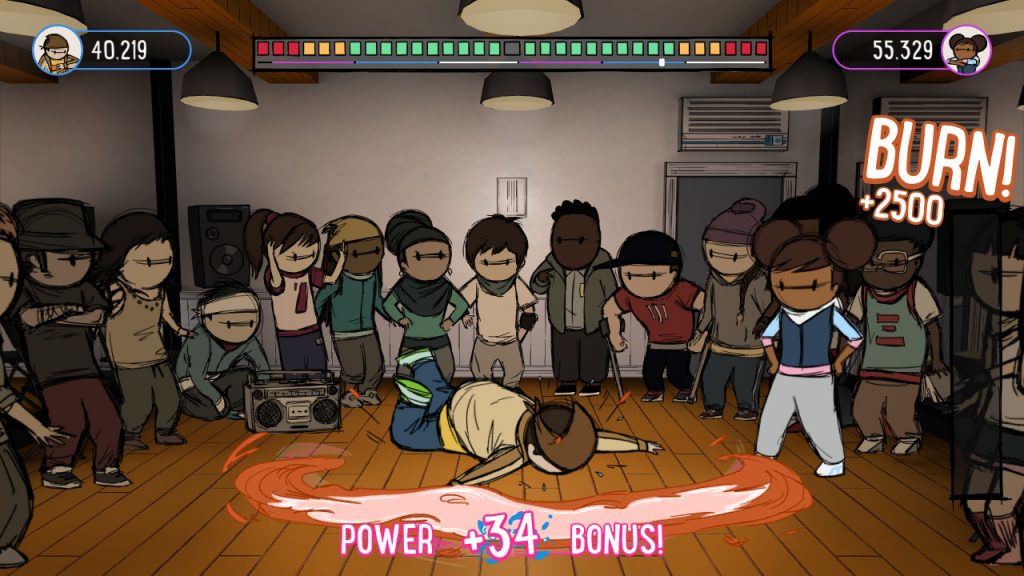 We're looking forward to add another indie title to our Switch collection! We'll make sure to report back once we know when Floor Kids is out this holiday season.
Leave a Comment