Welcome to Speedrun Sunday: that sadistic time of the week when we dare to challenge both your D-pad's durability and sanity's stamina with the ultimate test in video game bragging rights.
Hot off the body strewn battlefields of our Fire Emblem Warriors challenge comes yet another ruthless run that will pluck your ego straight from its rolly roots. That's right, fans of prophetic plants and tenacious twin stick tumblers: We're taking the perfectly pollinated powerhouse TumbleSeed out for some fresh air to find the very best botanists in town.
THE CHALLENGE
Who can climb the highest up Tumble's mighty mountain in Weekly Challenge mode?
Our claim to fame is 496 (7:01:27), which shouldn't be too hard to top for the most competent of climbers among you. The sturdiest seedling who either stumbles closest to or reaches the game's perilous peak the fastest by 12 a.m. ET will win a coveted $10 eShop card (North America), along with the illustrious title of Spriteliest Spore on the Mountain.
THE RULES
There's no limit to how many times the Weekly Challenge can be played, so feel free to try and top your scores as many times as you want!
Switch version only.
Follow @NinWire and @cityw0k on Twitter and retweet this post to qualify for today's cash prize. After that, simply snap a screenshot of your leaderboard score (as shown below) and share it in the Twitter comments, and we'll personally send both the prize and a social media shoutout to the winner on Monday afternoon. Also, make sure your in-game name matches your Twitter handle, or at the very least scribble your online alias using the Switch's editing feature alongside your fanciful feat so we know it was you.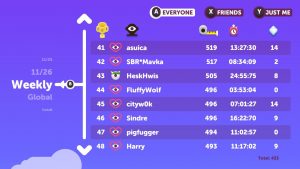 Remember, we'll be keeping score right here in the article all day, too, so you can easily keep track where your top rivals rank. Also, feel free to tune in to our TumbleSeed livestream at 4 p.m. PST where I'll personally be competing alongside the top competitors for fame and glory.
So whaddya say? Ready to change your powers and control your destiny? To quote the sappy seedlings themselves, "plant your checkpoints and stay humble."
---
Spriteliest Spore on the Mountain
1. @Nintendoge_ [1500, 31:12:10]
Budding Botanists Rolling Through the Motions
2. @NinjaFrogtron [733, 22:31:92]
3. @cityw0k [714, 8:44:69]
Leave a Comment