Sneaking into ARMS' last update, an event simply called "Party Crash" will be taking place this month. Thanks to Nintendo Versus on Twitter, we now have a better idea of what Party Crash is and what will happen from November 22nd to the 24th.
R.S.V.P. AND BYOC – BRING YOUR OWN CONTROLLERS
Possibly in response to the demand of events for ARMS — and very similar to Splatoon's Splatfests, as well as Fire Emblem Heroes' Tempest Trials — Party Crash has been introduced to the world as a fast-paced ARMS event. From what we can tell, different themed battles will be handing out experience points based on your participation and the ARMS and fighter you're using. These themed battles take place in five minute chunks throughout every hour, granting multipliers of experience.
What's with the experience though? Party Crash has a leveling system. With a max of 30, every five levels will earn you a prize. At levels 5 and 10, badges will be distributed — and they're only available for this event. To reflect this, we can see special designs of Ribbon Girl and Spring Man flash back and forth. Plus, depending on what level you hit, you'll also be rewarded with ARMS' in-game currency once the event is over.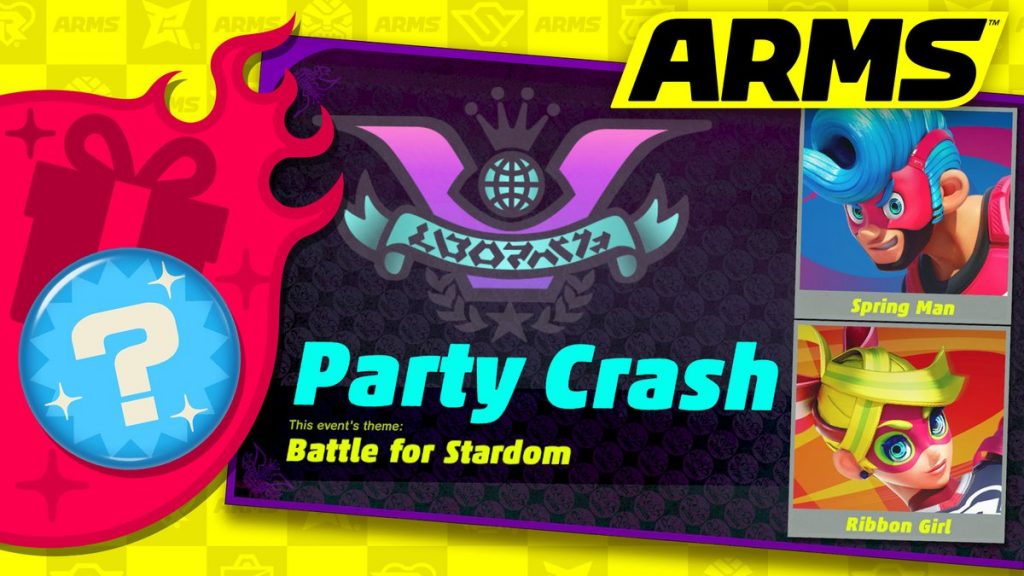 PARTY CRASHERS
Given the event's theme, Battle for Stardom, and the fact that bonuses will be handed out while playing as Spring Man and/or Ribbon Girl, it looks like there will be another battle of sorts. Once the event has concluded, the scientists at the ARMS Research Facility will calculate the data and see who fought more during this event. So, in an odd way, this is kind of serves as a Team Spring Man vs. Team Ribbon Girl event, similar to the way teams are pinned against one another in Splatoon.
Get a sneak peek at the #ARMS Party Crash event schedule, bonus ARMS, and prizes! pic.twitter.com/5m0Re1gUIQ

— Nintendo Versus (@NintendoVS) November 21, 2017

The event is slated to start at 7:00 on November 22nd and end at 1:00 on November 24th. Time slots to gain even more experience will occur every hour on the 10, 25, 40 and 55 minute mark for five minutes at a time.
Will you be picking up your wacky themed ARMS during this new event?
Leave a Comment