Rocket League has been one of my most anticipated Switch releases this year. The demolition derby/soccer-hybrid has been a smash hit since its release back in 2015, and it doesn't show any signs of stopping. Psyonix porting Rocket League to Switch, with the help of Panic Button, was a no-brainer, and I'm glad they jumped on the Switch bandwagon so quickly.
A Rocket car rumble
Rocket League is a high-velocity take on soccer involving rocket cars and a massive soccer ball. Teams of one to four players take on one another to see who can score the most goals in five minutes, and it's absolutely as hectic as it sounds. Players can boost and flip around the field at high speeds, with powerslides and actual rocket flying thrown in for good measure. It's an insane premise that's easy to explain but extremely hard to master. The mechanics and controls of the game are implemented perfectly, and high level play looks effortless, but it's extremely difficult to get the hang of the game for a newcomer. Nevertheless, Rocket League is fun — very, very fun.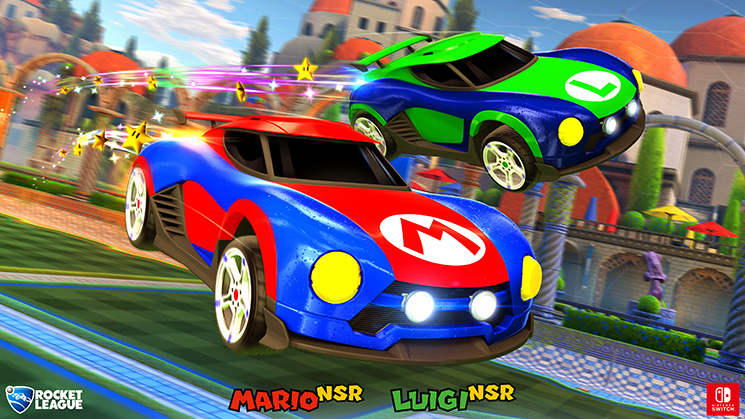 The online onslaught
Most gameplay takes place online, and it's incredibly simple to load up and get into a match. Play Online is the very first option in the play menu, and from there you can select your match type — standard match types are 1v1, 2v2, 3v3 and 4v4. There are also a couple of options that completely change the rules, two of which mimic other sports: Hoops, a form of rocket-powered car basketball that replaces the goals with horizontal hoops; and my personal favorite, Snow Day, gameplay that mimics the sport of hockey by replacing an enormous soccer ball with a giant hockey puck.
The online play is perfectly smooth, and I have had no slowdowns in my time with the game on Switch. The game also throws in AI controlled players seamlessly if any of your teammates drop out of the game, so if you have teammates rage-quit, you aren't totally out of luck. (In fact, you may be better off.) Communication with your teammates is rudimentary, but effective. A quick tap of one of the directional buttons will bring up a menu of options, which you can then pick with another directional button tap. There are plenty of preset options that can be customized to suit your needs, but I've found that the default messages work great.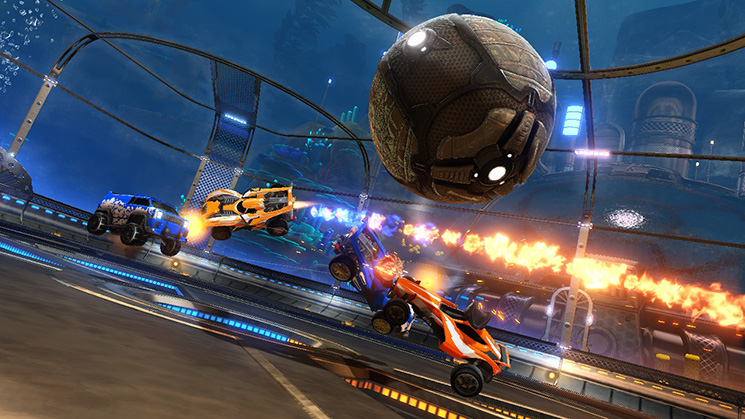 A tricky trade-off
As far as how well the game plays on Switch, the gameplay runs smoothly whether docked or in handheld mode, and it feels just as great as if you were playing it on a more powerful console. The Switch version does take a graphical hit, though it's far more noticeable in handheld mode. The game loses a lot of visual quality in handheld, and it's most apparent right before kickoff — since when you aren't moving it's very obvious that the edges of your car and its accessories are jagged. There were two or three times that Rocket League looked comparable to Mario Kart DS when I was playing in handheld mode, but most of the other times weren't quite that bad. It should be said that the game still runs perfectly underneath the jagged graphics, and during the fast movement of gameplay the lower quality isn't a huge deal, since all your focus is on the ball.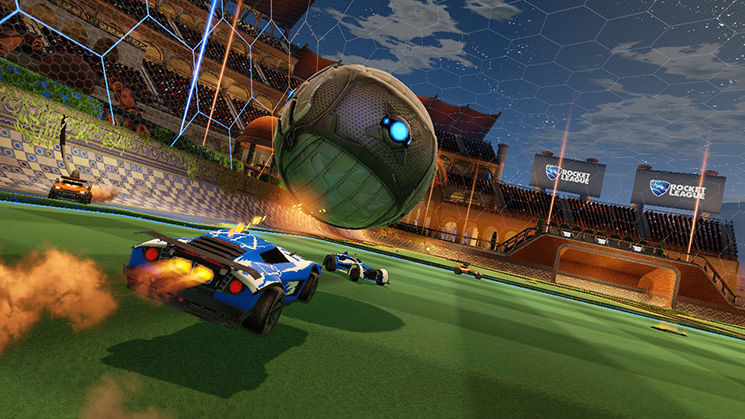 Handheld mode, despite its graphical issues, is the biggest selling point of Rocket League on Switch. Having this game with me on the go has been a dream of mine since I first played it, and Psyonix has made that dream come true. Handheld mode also requires the use of Joy-Cons rather than a Pro Controller, which I initially had not been too keen on trying out; however, I found that when I was using the Joy-Cons to play, my performance actually improved. I love the Switch's Pro Controller, and I'm still unsure why the Joy-Cons feel so good, but it made playing in handheld mode feel that much better, so I'm not complaining.
The offline arena
There are also offline options in Rocket League, though they aren't the biggest focus. There's a single-player option, which has you playing a "season" of matches against computer controlled opponents. This mode serves as a way to pass the time while still playing this addicting game, as well as building your skillset. Local play also includes split-screen play with single Joy-Con support, which opens up the options for playing with local friends. Rocket League's main focus is online play, but the offline options can get you your Rocket League fix in a pinch.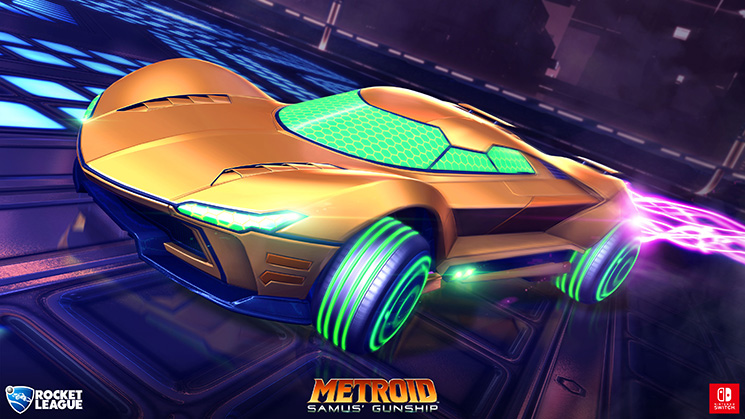 The nicest of shots
Rocket League was great from the get-go, and bringing it to Nintendo's newest console is just the icing on the cake. Portability is exactly what this game was missing, and I'm comfortable stating that the Switch is the perfect home for Rocket League, even with the graphical downgrade in handheld mode. Again, the game still runs perfectly underneath the jagged textures, and you don't notice them in the heat of the match. A title about rocket cars doesn't need to rely on graphical power to be great, which Rocket League's Switch release proves. Psyonix already had a winner on its hands, and bringing it to Switch has given the developer a champion.
Leave a Comment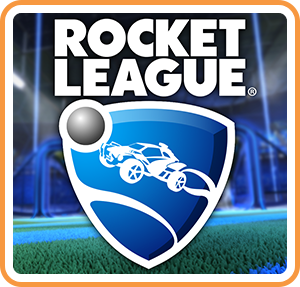 System: Nintendo Switch
Release Date: November 14, 2017
Categories: Sports, Racing, Action
Publisher: Psyonix
Developer: Psyonix